Today is Day 10 of my 31 Days of Self-Love posts to celebrate Self-Love Month with suggestions for jump-starting your own self-love and joining The Self-Love Movement™.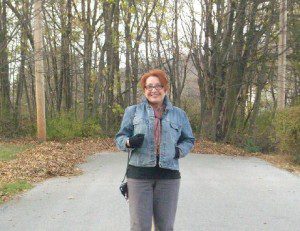 Today I have a special guest. Self-love ambassador Brenda Lidwell wrote to me years ago when she was struggling to handle life. She was reading my books and this column for answers. Slowly I've seen her go from a scared woman who lived for others to someone I greatly admire for creating a happy life on her own terms. Brenda is a perfect example of how you can build strong self-love coming from any place and at any age (she just turned 66!). I asked her to share a little about her journey with you.
Brenda finds pleasure in every little bit of life and attracts wonderful people because of her joyous nature and the delight she takes in meeting people and doing things many take for granted. Brenda believes "Life isn't about finding yourself, life is about creating yourself." (George Bernard Shaw) And loving herself allowed her to do just that! She has created a life beyond retirement that keeps her waking up happy and loving herself every day! Her world is like magic–one that she manifested for herself. You can learn a lot about getting older with joy from Brenda! Here's what she has to say:
HOW MANY "F" WORDS DOES ONE GET IN A LIFETIME?
By Brenda Lidwell
FAMILY~~FRIENDSHIP~~FAITH~~FREEDOM~~FORGIVENESS~~FAME~~FEAR~~FORTITUDE FIGHT~~FAILURES~~FOCUS~~FUN~~FUNCTION~~FIND~~FLOURISH~~FLOWERS
As I share my appreciation of what I have learned from LIFE 101 and the wisdom I accumulated, it is not to be agreed upon or disagreed. It's all about me and what works for me in the sixth decade of my life. Most refer to this segment of our lives as retirement. I embrace it as my evolution—a spiritual, emotiona,l and physical evolution!
I'm a baby boomer celebrating what some from previous generations call retirement. I retired from salaried employment, not retirement from life! What does "retirement from salaried employment" actually mean? Besides the obvious, it's a lifestyle change by choice. The first reality check is not only how do I simplify my life, but why? We've all had jobs or careers. I describe the difference between a job and a career is that in a job the hours are not 24/7. I had both.
I was always proud of my accomplishments through the decades beginning in the mid 1960s; but as my jobs and continuing education developed into careers with banking/finances/investments and then later real estate, my careers owned me. But, keep in mind, my age group of women were the pioneers for equal pay and promotions and nowhere near the glass ceiling existing yet. I didn't realize at the time that my social and personal interests did not expand beyond the world of my employment.
I recall a sage telling me that at my age I didn't fully comprehend her wisdom. She referred to the decades of our lives and how we spiritually and emotionally change. Some grow, some don't. Some learn to change their course and others, when to walk away. I was at my prime and as I look back now, I remember thinking: "How old is THAT?" and tucked that advice in some mental file labeled "NOT YET!" I was in my 40s. WOW! The next twenty years zipped by. "Time flies when you are having fun" and I found myself adding to that phrase, "and just think how fast it would go if we were having fun."
THEN, I turned 60 and decided I should exercise. Perhaps I would feel more enthused about everything in general. 6AM SPINNING class before work three mornings a week was a start—two new experiences: physical and mental. One hour with no intrusions. My only focus was my repeated prayer: "Dear Lord, help me to not collapse nor fall off this bike." To "Oh, is it over already?" AMAZING! This was the spark I needed for my rebirth. I exercised with young professionals, mothers, students. No one was there to socialize. It was one precious hour out of 24 in a slot to have for themselves; their goals; their one hour. As I pedaled with all my might with these women, I realized "I had been there, done it." They were ALL me at various stages of my life.
The world of new cars, trendy wardrobes, frequent evenings at hot spots, restaurants—TRAPPINGS! This stuck in my mind. "Dear Lord," I said to myself. "These women have twenty or more years of this juggling, routine, stress. Thank you, I can change my course now. I don't think they can." The decision was made. I announced my early retirement when I celebrated my 62nd birthday. The reaction from friends and family was totally unexpected and not supportive. Let me back up to the words "SUPPORTIVE" and "NON-SUPPORTIVE."
SUPPORTIVE: Being asked what traveling plans did I have in mind.
NON-SUPPORTIVE: Being asked "whatever would I do with my time after I slept in for a couple months and then got bored with nothing to do? And then:
UNSOLITICITED ADVICE. My least favorite remark offered more than once—"YOU can't afford to retire. Buy a new car and retire in a couple more years."
My responses eventually became non-explanatory. I became more relaxed and it got easier to reply: "The less one has, the easier it is to do." Perhaps because I'm divorced and single, they couldn't imagine what could I enjoy on a daily basis. I admit that the first year as an official retiree, I felt I had to justify what I accomplished each day. My employed friends remarked about what time should they not call as I probably slept in every day. Truthfully, I enjoy awakening without an alarm clock at 6 AM, preparing breakfast, and my daily walk by 9 AM.
When retirement was a long-range idea, I often wondered how I'd live it. I always had dreams on the back burner due to family responsibilities and the necessity of supporting me. No ME time was left. I recently commented to a younger friend that when I'd state that I wanted to live simply, not simply live, there was rarely a response. I suppose this thinking was too off the wall. Never once did I share my fear that this day might never come. In my previous lifestyle, I seldom cooked and usually ordered take-out or ate at a diner or restaurant. Now I enjoy cooking and grocery shopping and understand that a well-balanced breakfast is fuel.
Instead of paying DUES to exercise, I now DO! I walk not only for exercise but to accomplish errands and destination goals planned for each day. The distance gradually increased from two miles to five miles a day. I no longer have high blood pressure — no medication is needed. As I walked, I became accustomed to friendly greetings or smiles from young mothers with their children, grandparents babysitting and even hurried working partners who initially gave a nod or smile to a now routine greeting: "You are so lucky. My husband and I plan to retire early!" Am I a goodwill ambassador? I don't know, but it makes my day!
I started noticing the beauty of my different routes—old neighborhoods, gardens. I soon discovered the unexpected, ignored beauty. For example, I passed an old Victorian home that I'd driven past many times and never really saw it. WALKING past it I noticed the beautiful iron gate in the side entrance and returned the following day with my camera. I was finally able to stop and smell the roses! How many years had gone by that "I couldn't see the forest for the trees?" My camera is now my companion.
I'm asked by friends if they could join my daily walks. The former ME would have agreed because I didn't know how to say "no." Now I simply decline with the truth. Walking is my spiritual time. I always felt nature and the outdoors was God's true chapel. Man can build a cathedral but who can give us the gurgling brooks, chirping birds, a fallen tree for a pew? I feed my soul everyday by reconnecting with my beliefs. I embrace early mornings to not let any of the miracles get away from me. As a child I was taught to say bedtime prayers. As an adult, my ritual continues as: "Thank you God for everything and please keep love, peace and harmony in all our lives. Amen." This is my new-age/old-age religious observance.
I joined the local community theater. In the past, I inquired but realized I couldn't make the commitment necessary. The time is now right. I have more than a hobby—it's a passion! I even joined the local public library. It encourages me to accomplish reading from a bestseller List. Another discovery is the library offers an agenda of month activities, including guest speakers.
Did I mention public transportation? I bought my first car at age 18 and needed it to join the work force. Approaching and arriving at my "Retirement Years Plan," I knew my budget wasn't adequate to maintain a car. Not owning a vehicle prevents me from being spontaneous. Three years later, after becoming familiar with bus schedules, taxis, Amtrak, I now consider owning a car a burden. John Lennon sang, "Life is what happens to you while you're busy making other plans…" I have no regrets for the twists and turns along the way.
Family and personal responsibilities kept me driven as well as faith, hope, prayers and love. Everything I learned and earned gave me the skills and confidence I would never have had earlier in my life. Had I lived an uncomplicated, unchallenged life, would I be able to label every aspect of today as priceless? Every step of my present "Life is a Highway" attitude – every day a new adventure attitude – does give me another "F" word to add to my list:
FULFILLMENT
I do not have the grass is greener envy as I have been there, done it. The roses are on both sides of the fence. I now have time to plant, cultivate, admire, share, photograph — and smell! I recommend that everyone pick their own bouquet. There's a saying that I taped on my bathroom mirror as a reminder: "I intend to die young at a very old age!" Enjoy the ride!
***************
Join The Self-Love Movement™! Take the 31 Days of Self-Love Commitment and get my book, How Do I Love Me? Let Me Count the Ways for free at http://howdoiloveme.com. Read my 2012 31 Days of Self-Love Posts HERE.
Please leave comments under my posts so we can stay connected.