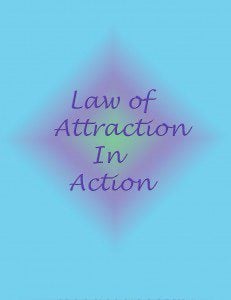 Today is Day 15 of my 31 Days of Self-Love posts to celebrate Self-Love Month with suggestions for jump-starting your own self-love and joining The Self-Love Movement™.
This is post 219 in my series on the Law of Attraction in Action. You CAN use your power to manifest your desires. I do it every day! Read all the posts in my Law of Attraction in Action Series to see how.
Have you ever felt down, unsupported or as if life is going against you? Have you ever been worried, or scared? Of course you have. We all have negative emotions or thoughts sometimes. Unfortunately, those negative feelings reflect a lack of faith and create a negative vibration that attracts the kind of stuff you don't want. In my DoorMat days I turned to thoughts like "Woe is me" or "How will I manage?" or "How can I get my crazy life in order?" or many other statements or questions that negatively doubted my ability to cope. And it kept me stuck in DoorMatville for a long time because I kept attracting the negative results of those thoughts.
The more I wanted to love myself, the more I knew I had to find ways to stay on a positive track that was good for me. So I came up with some things that I say that remind me to move forward with self-love and keep the faith that I'll be okay. Now I help my clients to find their own words of hope, encouragement or power that can snap them out of a funk and put them on a positive path. You should find your own too!
It's normal to go to a negative place when something negative happens. I sure do. But it's you choice to stay there or do something quickly to get into a positive mindset, which will facilitate your problem finding resolution instead of staying negative by thinking negatively. Creating your own personal positive mantra is a loving way to prepare yourself for times when you need a boost in your morale. Like an affirmation, a mantra is a word or phrase or sentence that you can say to yourself to remind you that you need to take care of yourself, and that everything will be work out.
This mantra is YOURS so I can't tell you what words to use. Whatever you choose should have meaning to you. It can be a word or two of encouragement, like "I rock" or a positive affirmation, like "I know I'll be fine." It can even be the name of someone you love as a reminder that you have a lot to be grateful for. My favorite mantra to get me on a self-loving track is "Focus on self!" When people are expecting more than I want to give or I'm feeling overwhelmed, I repeat, "Focus on self!" It reminds me to be kind to me and that I must take care of myself and my needs. Other mantras I go to are:
• "Everything will work out fine" I love this one when things seem to be going wrong. I'm currently using this as I write because there's a massive outage in my area and I have no telephone and Internet service. But I keep reminding myself that it will be fine. [NOTE: It all worked out okay.]
• "I trust in God/the Universe to take care of me. All is well in my world." When I feel scared or worried about something that isn't working out, I use this to remind myself that faith will get me through.
• "I love me and intend to take good care of me." This is a great one to just get yourself into a positive state of mind in general.
Find your own personal mantra and use it to switch gears when negatives are happening. "You go girl/guy!" "I can get this done!" "Life is good!" Or another one of my favorites—"I love me!" Getting yourself into a positive state of mind is a great act of self-love. It keeps you in a good mood and also allows the Law of Attraction to pick up on a positive vibe so things can work out fast. That's a great way to say, "I love me!"
See all the posts in my Law of Attraction in Action Series HERE.
***************
Join The Self-Love Movement™! Take the 31 Days of Self-Love Commitment and get my book, How Do I Love Me? Let Me Count the Ways for free at http://howdoiloveme.com. Read my 2012 31 Days of Self-Love Posts HERE.
Please leave comments under my posts so we can stay connected.