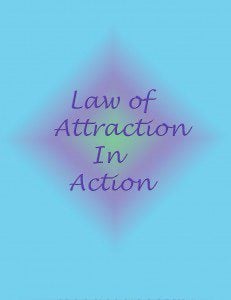 This is post 208 in my series on the Law of Attraction in Action. You CAN use your power to manifest your desires.. I do it every day! Read all the posts in my Law of Attraction in Action Series to see how.
•    Do you work very hard to succeed and then wonder why it's not happening?
•    Are you frustrated about working long hours, putting work before your family, relaxation and your social life, and not getting what you want?
•    Do you wonder what more you have to do to improve your situation?
While it seems logical, hard work in itself does not attract lots of money and success. Since your vibration is key to getting the Law of Attraction's support for it, it's important to feel good about whatever it is you're doing. That doesn't mean that you shouldn't work hard if that's necessary. But pushing yourself to the exclusion of the rest of your life or being unhappy creates a negative vibration, so your hard work will pay off as having to work harder for no positive results.
I never consider myself as working hard, though I work a lot and at times rush around doing things for very long hours. But since I love what I do, my vibration is positive. I only do things that feel good or I try to find a way to make tedious things that must be done a bit more pleasurable. I do paperwork and posting to this blog with the TV on and other times I play music I enjoy. I try hard not to rush, because then I don't feel good. I take my laptop to coffee shops, diners and the park in nice weather to improve my environment.
I relax in the morning and allow plenty of time to do things I enjoy, even when I have a lot to do, because that makes me happy. And feeling happy is a great way to keep your positive vibration high. Feeling stressed from working hard sends your vibration in the opposite direction. Even during the times when I'm on a tight deadline, I still keep my vibration high because I love writing and focus on the pleasure of the results of finishing my book or article and all the people my writing helps.
So when people tell me I work too hard, I usually laugh, since it often doesn't feel like work. If I have no plans on a Saturday, I'm thrilled to take my laptop out for brunch and then to the park or a coffee shop and just write—write—write. That makes me feel so good and my vibration brings me good stuff. Working hard and feeling bad about it, complaining about how hard you work, struggling against exhaustion, and missing your friends and family, does not.
I make career choices based on how each makes me feel. For example, I was supposed to co-write what was touted as a very prestigious book that could elevate me in my career. I was excited to start but the woman I worked with was horrible to deal with. One day she was in a good mood and praised me, the next she was critical. She didn't really know what she wanted and drove me crazy. Every time I got an email from her or she asked to speak by phone, I'd cringe, not knowing what she'd want or not want this time.
This book would have earned a lot of money for me. I'd passed on other opportunities to write it. But after several months of dealing with someone who seemed to have mental problems, I was miserable. After completing the proposal for the book, I knew I didn't want to write it. Shortly after I got a call that the woman was so confused about he book's direction that she wasn't going further with it. I was losing a big source of income when I had none coming in. Most people would get upset, even if the project was tough.
My response was a resounding "YAY!!!" I was so happy to not have to write the book, even if I didn't have another source of income since I'd freed all my time for this one. Friends didn't understand why I wasn't a bit upset. All the joy I usually have in writing was killed by this woman's issues. I was in a fabulous mood and trusted everything would be fine. Within weeks another good project was offered to me.
If you find yourself working hard to reach success and unhappy about it, reevaluate what you're doing. Find ways to change your vibration to a positive one instead. That's the best path to success and other things you want the Law of Attraction to help you get. Feeling good and getting more is a win/win situation!
See all the posts in my Law of Attraction in Action Series HERE.
***************
Take the 31 Days of Self-Love Challenge–a pledge to do something loving for yourself for the next 31 days–and get my book, How Do I Love Me? Let Me Count the Ways for free at http://howdoiloveme.com. Read my 31 Days of Self-Love Posts from 2012 HERE.
Please leave comments under my posts so we can stay connected.