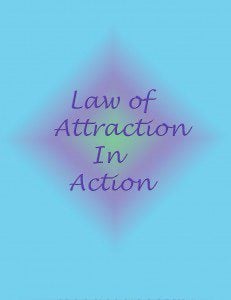 This is post 178 in my series on the Law of Attraction in Action. You CAN use your power to attract all that you need. I do it every day! Read all the posts in my Law of Attraction in Action Series to see how.
Many of us have physical ailments that have gone on for years. They may not seem serious in that they won't kill you, but they cause enough discomfort to affect your mood. Whether it's back pain or acid reflux or migraines or arthritis or any number of other conditions that don't feel good, they can keep you in a funk. I've had an unbalance in my endocrine system for over 10 years that gave me regular discomfort and disturbed my sleep most nights. I've seen a variety of doctors, tried alternative remedies like acupuncture, tried medication which upset my system more, and natural supplements that gave me some relief but the discomfort and sleep disruptions still occurred.
It greatly affected my mood and created negative emotions that were like shadows over my otherwise positive mindset. It's hard to feel completely positive when you feel tired from not getting enough sleep. So for many years I've had to really work on keeping my vibration up as I yawned through my days. I finally decided I had to use my lessons on the Law of Attraction to change my situation.
We tend to go to a place of worry, anger, frustration, depression, and more when we're in pain or have uncomfortable symptoms. That creates a negative vibe that attracts more of what you don't want. It can make your pain or discomfort worse and it's harder to get rid of what you don't want. If you wait to feel better before your emotional state improves, prepare to wait. Your mental state must improve first in order to manifest relief and positive experiences. That's why it's important to focus on something positive, things that make you feel good, despite how your body feels.
I did that and it worked! First, I stopped talking about my ailments as much as I could. Complaining about the discomfort I felt, especially the poor sleep, had become a negative outlet for me. I became conscious of how much I talked about it and made an effort to cut back. The less I spoke about it the less I thought about it and I noticed the frequency of uncomfortable symptoms decreased a little. Then I took it a step further. I made a conscious effort to find the things in my life that gave me joy and gave thanks for them when I wasn't feeling well.
I also did Tapping on it, using EFT (Emotional Freedom Technique) like in the video I shared in my "I Love Me!" post, Tap Into Vibrant Health, to release the negative emotions and get myself into a higher vibration for manifesting more balance in my endocrine system. It all put me into a better mood and my energy picked up. When discomfort hit, I blessed it and gave thanks for it preparing to be gone soon. Each time I felt something negative, I said goodbye to it with a smile instead of going inward to feel self-pity.
I truly believe that my more positive vibration about finding my balance and losing the discomfort led me to Mahendra Kumar Trivedi, who I interviewed for my article, The Trivedi Effect™.  When my vibration was high, I was invited to hear him speak in a webcast. Reading that his Energy Transmissions had powerful results made me curious. After hearing him speak, I got a very strong gut feeling that I must get what he calls a spiritual blessing in person when he was in NYC. It seemed unlikely to work but I was desperate. It was hard to believe that a few minutes with him giving me the Energy Transmission would change my life. But it did! I've been sleeping MUCH better from the first day and it gets better each day as most of the discomfort has stopped.
I do believe I was led to Mr. Trivedi. You manifest much more by watching for signs and following your gut. You may hear about a doctor with good results for your physical problem or about a new treatment. Sometimes you can just manifest your discomfort leaving by being positive about it happening. Everyone is different. The important thing is getting your vibration strong and losing the negative emotions. While it's normal to feel them when you don't feel well, they keep you feeling lousy longer. I know that the idea of seeing Mr. Trivedi was sent to me by God. Some may pooh pooh this notion but I don't care since I feel great now and am sleeping well.
It's said that when the student is ready, the teacher comes. It's the same with letting go of physical problems. When you make a strong conscious decision to get better and your vibration reflects that, miracles happen! When you change how you respond to discomfort or pain to a positive attitude, you can also attract a lot more ways to get permanent relief. Plus, not feeling negative feels so much better than succumbing to discomfort. Try it!
See all the posts in my Law of Attraction in Action Series HERE.
***************
Take the 31 Days of Self-Love Challenge and get my book, How Do I Love Me? Let Me Count the Ways for free at http://howdoiloveme.com. And you can post your loving acts HERE to reinforce your intention to love yourself. Read my 31 Days of Self-Love Posts HERE.
Please leave comments under my posts so we can stay connected.