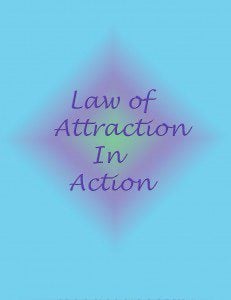 This is post 175 in my series on the Law of Attraction in Action. You CAN use your power to attract all that you need. I do it every day! Read all the posts in my Law of Attraction in Action Series to see how.
Today is Valentine's Day, the so-called day for love, which forces many people to find ways to show love that's enough for their partners. Women expect all the bells and whistles of romance. Men are stressed about doing enough. Women delude themselves that they feel more loved because their guy brought flowers or jewelry and took them to a nice restaurant. Many men just see it as an obligation.
It's not that men don't want to be loving to the woman they love. They do. But men don't think like women and often don't know what to do so they buy the typical stuff, hoping it will be well received. Years ago the boyfriend of a woman I was friendly with emailed me to ask what he could get her to show how special he thought she was. He loved her a lot but was stressed about how to show it.
Loving someone shouldn't be that hard or create negative emotions!!
I suggested he buy her some flowers and make a list of the 10 things he loved about her the most. I could feel his relief when I assured him that it would make her happier than anything else he could buy. He said that was easy and did it. The next day he said she cried tears of joy reading it. He thanked me profusely for helping him show her how much he loved her.
Valentine's Day should be about love, not about how much you spend on each other or where you go to celebrate. Love doesn't begin and end on V-Day. When you love someone, you should show each other love every day! When you make one day THE day for love, the Law of Attraction might read that as you don't expect loving gestures all year round, and you probably won't get them. Yet love isn't about how much someone spends on you or how much romantic things they do. Real love is much more about what's inside and how the person treats you every day,
If you accept romance on V-Day as the main course of love, you tell the Universe that you don't expect love every day. but you should! Romance is sweet but loving support and consistent caring is more sustaining. When you expect that, the Law of Attraction knows what to do! You deserve to be loved every day. Be a loving person and you'll attract it! then every day can be a loving one!
See all the posts in my Law of Attraction in Action Series HERE.
*********************
Take the 31 Days of Self-Love Challenge and get my book, How Do I Love Me? Let Me Count the Ways for free at http://howdoiloveme.com. And you can post your loving acts HERE to reinforce your intention to love yourself. Read my 31 Days of Self-Love Posts HERE..
Please leave comments under my posts so we can stay connected.