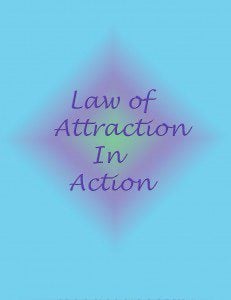 This is post 151 in my series on the Law of Attraction in Action. You CAN use your power to attract all that you need. I do it every day! Read all the posts in my Law of Attraction in Action Series to see how.
I've discussed the importance of having the best vibration possible for attracting what you want to manifest and discussed creating the vibrational emotions in my Law of Attraction in Action: Emotions post. Getting the right vibrational tone can be the hardest part of manifesting. I've quoted Esther Hicks, who I consider the queen of using the Law of Attraction who speaks for Abraham. So below I have a video of her explaining how to create the vibrational tone needed.
The Law of Attraction will support your intentions only so far as your vibration reflects that you intend to get what you say you want.
The more you work on your vibration, the more ammo you have for manifesting. The stronger your emotions about getting it, the more likely you will get what you want. So if you're not getting what you want, do a vibration check. See what you're emotions are telling the Universe. Then work on revving yourself up as much as possible! Listen to this video to get more insight and suggestions.
http://www.youtube.com/watch?v=12BhS22ZySA&feature=related
See all the posts in my Law of Attraction in Action Series HERE.
*********************
Take the self-love challenge and get my book, How Do I Love Me? Let Me Count the Ways for free at http://howdoiloveme.com. And you can post your loving acts HERE to reinforce your intention to love yourself. Read my 31 Days of Self-Love Posts HERE.
Please leave comments under my posts so we can stay connected.