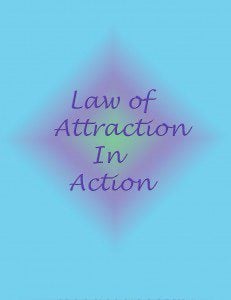 This is post 149 in my series on the Law of Attraction in Action. You CAN use your power to attract all that you need. I do it every day! Read all the posts in my Law of Attraction in Action Series to see how.
Many of us struggle to LOSE weight. The pounds may come off but they often go back on not long after. I hear complaints often about how LOST weight came back fast. People get frustrated as they try new ways to lose the pounds again. Yet those pesky lost pounds eventually return. I used to think it was just the way our bodies work. But I've learned that the Law of Attraction plays an interesting role in returning lost pounds.
I've become aware of how using the word LOSE hurts our ability to get thinner.
The Law of Attraction takes our thoughts literally. And what normally happens when you LOSE something? You try to get it back. While pounds aren't the same as losing your keys or wallet, the Law of Attraction hears that you've lost weight and helps you get it back. The first time I heard this I thought it was a stretch but then I heard someone else talk about it and it did make more sense. Normally when you lose something you seek to recover it.
The Law of Attraction helps you get those lost pounds back, especially if you talk about them a lot.
Even if you're saying how much you like that you lost 5 pounds, theLaw of Attraction hears LOST and assumes you want them back. We always have to watch our words when we want the most power to manifest the right stuff. I haven't been using lost when it comes to weight and weight is coming off. Taking off 5 pounds doesn't express a loss that needs to be found. Another good substitute for losing is to release weight. When you release something, you usually let it go.
The words you use are critical for how effective your manifesting will be, or for attracting what you don't want.
If you want to get thinner, stop trying to LOSE weight and start finding other ways to express that desire. Release weight, lower your pounds, get your weight to ____ pounds. Just don't use lose when you talk about it if you don't want them returned to you!
See all the posts in my Law of Attraction in Action Series HERE.
*********************
Take the self-love challenge and get my book, How Do I Love Me? Let Me Count the Ways for free at http://howdoiloveme.com. And you can post your loving acts HERE to reinforce your intention to love yourself. Read my 31 Days of Self-Love Posts HERE.
Please leave comments under my posts so we can stay connected.