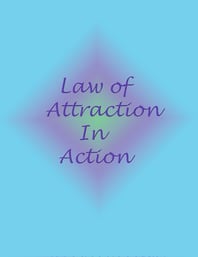 This is post 141 in my series on the Law of Attraction in Action. You CAN use your power to attract all that you need. I do it every day! Read all the posts in my Law of Attraction in Action Series to see how.
It can be frustrating when you need something and can't find it. You know your keys are somewhere but it feels like they were eaten by your apartment. Or there's an item you need badly but can't find it in any store. Or you want to do something differently but can't find the answer about how to do it anywhere. Not finding what you want or need can create frustration. Instead of looking in a relaxed way, after a while stress can set it.
Negative emotions that build up from frustration of not finding an item or answer can block you from getting it.
I've been there. I used to toss my keys in places that I'd forget. I could walk into my bedroom holding them, look for my slippers which had been pushed under the bed, put the keys down to reach the slippers and leave the keys under the bed. Later I'd look in all the logical places to find them and eventually get frantic when they weren't anywhere. That created negative emotions which made it much harder to remember I left the keys under the bed. I've experienced this when I'd seen the perfect shoes when I didn't need them and when I did they were nowhere I looked.
Stress about not finding something tells the Universe you don't expect to find them, and you don't.
One of my favorite, and most useful quotes from the bible is in Matthew 7:7, "….Seek, and ye shall find; knock, and it shall be opened unto you."
I began to use this quote to offset my negative emotions and keep me on a positive track. The more I say it with conviction, the more I generate the focus and emotions needed to manifest what I'm looking for. It began when I decided to buy a small brown teddy bear for a friend's daughter who saw one in a storybook I brought her and desperately wanted one. Her birthday was coming so it seemed a perfect gift. How hard could it be to find a little brown bear in a store? Turned out to be tough. I went through a whole shopping mall and came out empty.
I was anxious to find the bear in time to bring to the little girl's birthday party. I went to a big shopping area thinking I should be able to find it there. First I tried Macy's. I did find some bears but they were bigger than the one she wanted and ridiculously overpriced. The smaller ones like we saw in the book had on costumes or other things. I just wanted a plain little brown bear! As I left the store, I thought that I was done. No bear for her birthday! Then I decided I HAD TO find one. So I repeated "….Seek, and ye shall find; knock, and it shall be opened unto you." Over and over and over as I headed down the street.
Determination to seek and find fuels your ability to seek and find. The Law of Attraction works with you when you affirm your conviction to find what you need.
As I repeated my mantra, I looked through every store in my path. When I didn't find the right bear, this time I didn't get upset or frustrated. I continued affirming, "….Seek, and ye shall find; knock, and it shall be opened unto you." Suddenly I remembered there was a Kay Bee Toys in the lower level of a mall nearby. I'd forgotten it since I don't usually shop for toys. I walked over, repeating my mantra. As I walked to the stuffed animals, there was the perfect bear!
Ever since then I've used that same quote as an affirmation whenever I need something I can't find. It tells the Universe I'm seeking with the expectation of finding. That gets the Law of Attraction on my side. I always find what I need. It might not be instantly, which I'd prefer. But it's a lot better than not finding what I need at all. When I needed a dress for a book release party and couldn't find what I liked, I said my mantra and found the perfect dress! I say it when I put something down at home and can't find it, and always find it after affirming I will.
"….Seek, and ye shall find; knock, and it shall be opened unto you." Next time you need something, try using it over and over with serious intention.
The more you say it with conviction, the more you'll believe it. The more you believe it, the more power you put behind your intentions. Remember, the Law of Attraction picks up on the emotions behind our thoughts. When you focus on "….Seek, and ye shall find; knock, and it shall be opened unto you," you strengthen your chance of finding what you need by getting the Law of Attraction on your side. I've gotten so much more by using it. You can too!
See all the posts in my Law of Attraction in Action Series HERE.
***************
Take the self-love challenge and get my book, How Do I Love Me? Let Me Count the Ways for free at http://howdoiloveme.com. And you can post your loving acts HERE to reinforce your intention to love yourself. Read my 31 Days of Self-Love Posts HERE.
Please leave comments under my posts so we can stay connected.