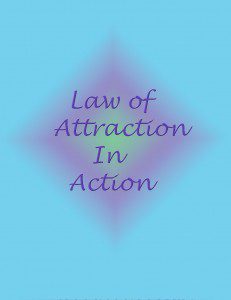 This is post 140 in my series on the Law of Attraction in Action. You CAN use your power to attract all that you need. I do it every day! Read all the posts in my Law of Attraction in Action Series to see how.
When I was studying the Law of Attraction, I listened to one of Michael Losier's CDs. He really helped me to understand the importance of focusing on what you want all day long, with strong positive emotion. My agent didn't think I'd get the book deal I wanted at the time. There were already 2 offers on the table but I didn't want either of them. My agent implored me to be realistic. I reassured her that I was. My reality was getting the deal I wanted, not settling for the editors that wanted me. I intended to get that deal and followed Michael Losier's advice as much as I could.
What he said raised my consciousness about the importance of getting myself excited about what I desired, and to think of it as already mine, even if I didn't have it yet. Whenever I could, I screamed and joyfully shouted that the book deal I wanted was mine. Over and over and over. It felt funny at first but the more I did it the more I generated stronger positive emotions. I truly believe that doing this was the true key factor in my getting the book deal I was focused on, which happened as I affirmed it would.
Make the effort to feel what you want as if you already have it. Focus on the prize, the end game, not what  you don't have or how hard it will be to manifest it. Check out this video of Michael Losier speaking about it:
See all the posts in my Law of Attraction in Action Series HERE.
Take the self-love challenge and get my book, How Do I Love Me? Let Me Count the Ways for free at http://howdoiloveme.com. And you can post your loving acts HERE to reinforce your intention to love yourself. Read my 31 Days of Self-Love Posts HERE.
Please leave comments under my posts so we can stay connected.