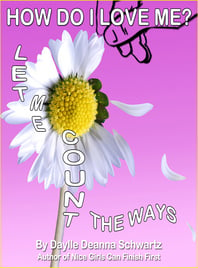 I recently met Dr. Joel Schlessinger, MD, a board-certified dermatologist and founder of LovelySkin.com, offering a fabulous assortment of skin care products. I told him about my Self-Love initiative and how I give "I love me" tips.
Without missing a beat, he asked me to tell you that wearing sunscreen is a good way to say "I love me."
The messages are everywhere. Skin cancer is on the rise. Yet so many of us don't wear sunscreen every day. We go out without it, risking our skin and our lives. I was one of them. But the more I loved myself, the more I made an effort to put on sunscreen. My healthy skin reflects my self-love. I take care of it. Even when I don't go out, if there's sunshine, I make sure I have some on, since the sun reflects through the window I'm in front of when I write.
Not wearing sunscreen expresses disrespect for your well-being.
I highly recommend you wear sunscreen to protect your skin. As you get older, you'll be glad you added that protection to help your skin age well. And you'll reduce your risk of skin cancer. Truthfully, I sometimes find it a pain to remember to put sunscreen on before I go out. But I'm making the effort to get into the habit, because I love me.
Make sure you use a good sunscreen. You don't have to spend a fortune but it should offer good protection. I prefer at least 30 SPF when I'll be out when the sun is out too. Magazines continuously review products. Pay attention. Every time you remind yourself to wear sunscreen, say out loud, "I'm putting this on because I love me!" It's a loving habit to get into.
Take the self-love challenge and get my book, How Do I Love Me? Let Me Count the Ways for free at http://howdoiloveme.com. And you can post your loving acts HERE to reinforce your intention to love yourself. Read my 31 Days of Self-Love Posts HERE.
Please leave comments under my posts so we can stay connected.