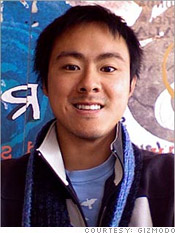 Brian Lam is the editor-in-chief of Gizmodo, a blog by experienced journalists and talented young writers with one thing in common: An unnatural love for gadgets and tech. It's also one of the world's largest blogs, with over 37 million page views a month. Gizmodo was launched by Gawker Media in 2002, and since then it has won several awards, including the weblog awards in 2007 for best writing, and has been quoted in and on The New York Times, Wired, the BBC, Today Show, and others. Brian was listed in Business 2.0's list of 101 people "Who Matter Most."


Brian offers his thoughts on Apple:
David,
I'd say there are aspects of faith here, but for the most part, it's faith of the most practical sort.
People trust Apple to make technology that is easy and reliable to use, based on a proven track record. And some would say that it's done in a way more stylish than could have been imagined, which doesn't hurt the adoration. 100 Million iPods, or so, not mentioning the computers. That's kind of makes it the bible of MP3 players, as far as the numbers go.
What's interesting is that there are MP3 players with bigger storage capacities, features like built in radios, bigger screens, WiFi, and other tricks. Often they go for less money, too. By the stats, it doesn't make sense to go for an iPod. Yet millions have because of the ease and friendliness of the controls, design, and software. I've never been aggravated using an Apple product, and have lost many nights of sleep playing with PC Hardware (I started out in my industry as a zealous PC user, only to come around to the Mac after many years of experience with all sorts of technology.) This is completely practical, even if the resulting appreciation I have for Apple gear is as close as i'll ever get to loving a machine.

You mentioned some of the earlier ads, having religious tones. Today, there is none of that. Check out the iPod ads, where people are dancing around in silhouette, to all kinds of music, with colorful backgrounds.
I'd say there are several things going on here. Simple color and shape, the technology isn't emphasized nearly as much as the movement and music. In a word, I'd call it human, where technology is typically viewed as a cold, geeky, thing.
Does that make it religious? Maybe, but only so much as anything human does. I have faith Apple will take care of me. That my Mac won't crash on me when I'm in the middle of a big assignment. That they'll make gadgets that I won't be annoyed to use. Stuff that isn't clunky or ugly. That works for me. And I'd be much worse off as a writer, and technologist if they weren't around.
Read David Kuo's
original post
on the Apple religion.