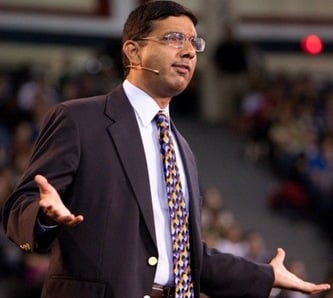 Dinesh D'Souza, a Roman Catholic (or is he?), is now President of an evangelical Bible college in NYC: King's College. Here are his comments from Sarah Pulliam Bailey's article at CT:
"I'm quite happy to acknowledge my Catholic background; at the same time, I'm very comfortable with Reformation theology," D'Souza told

Christianity Today

. "I'm comfortable with the evangelical world. In a sense, I'm part of it."



OK, I get it that there's more convergence today than there was five hundred years ago, but c'mon, one can't be both Roman Catholic and "very comfortable with Reformation theology." But there's more to this story.
As the article at CT proceeds, we learn his wife is an evangelical and he's been attending Calvary Chapel in San Diego for ten years, which means he's been soaked in evangelical culture and he's just not all that Catholic. Then the real truth comes out, and it's a confusing blend of safe affirmations:
"I do not describe myself as Catholic today. But I don't want to renounce it either because it's an important part of my background. I'm an American citizen, but I wouldn't reject the Indian label because it's part of my heritage," D'Souza said. "I say I have a Catholic origin or background. I say I'm a nondenominational Christian, and I'm comfortable with born-again."



My prediction: King's will do very, very well with D'Souza at the helm and it will attract conservative Christians with interests in conservative politics and apologetics. I see this as a good thing, but starting out with such confusing theological statements isn't.
D'Souza's got one just a toe left in the Tiber on his way to Geneva.