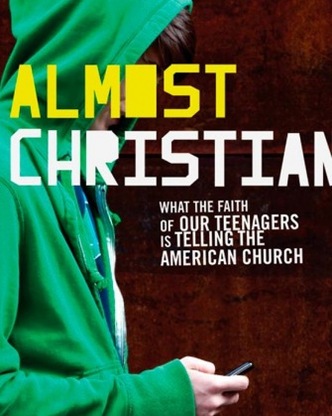 What does the faith of America's teenagers tell us about the faith they are being taught? What does their faith tell us about the American Church? Two very good questions, both addressed by Kenda Dean, a professor at Princeton Theological Seminary.
Her book is called
Almost Christian: What the Faith of Our Teenagers is Telling the American Church
, and I will be blogging my way through it.
(By the way, Tony Jones is blogging about this book and you can gain entry to his series
here
.)
She gives away the marbles on the opening page, so I will too and I quote her:
"American young people are, theoretically, fine with religious faith — but it does not concern them much, and it is not durable enough to survive long after they graduate from high school."
Then she adds this: "One more thing: we're responsible." That's p. 3. That's the download significance of this book. We need to read it because I think her thesis is very sustainable:
You can learn from our youth what they are being taught or what they have caught from the faith of their parents and their pastors and the American Church at large.
First, do you agree with the logic? Does their faith reflect our faith?
Second, how is this fixed? Does it begin with us or with them?
What we find among the youth culture is a Christianity that is nice. Nice isn't enough. It doesn't sustain a faith.
Dean knows that the best description of youth faith is Moralistic Therapeutic Deism, a set of factors that emerged from the National Study of Youth and Religion (see Christian Smith's writings). What is MTD?
1. God exists, God created, and watches over the world.
2. God wants us to be good, nice and fair to each other.
3. The central goal of life is to be happy and to feel good about oneself.
4. God is not involved except when I need God to solve a problem.
5. Good people go to heaven when they die.
This is the conclusion of some major studies and if this is what the ordinary young Christian believes, we have to ask why they believe such things. What are we teaching/showing if this is what they inherit/believe?