We were invited to Dublin to the Irish Bible Institute to do a two-day institute on the early Christian gospel. It was a wonderful experience, and I'd like to say a few things about it.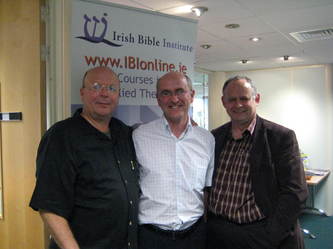 First, the people were wonderfully hospitable and theologically engaged — and committed to missional work in the Republic of Ireland (southern Ireland for us USA folks who can't figure out Ireland). Patrick Mitchel, a theologian and deeply committed churchman, met us at the airport and was our host for the week — and he had everything figured out for us, including a relaxing dinner with Ines, his wife, in Dublin — after wich we strolled along the River Liffey. Well, not completely true about Patrick doing all of it: some of this was done by Stephanie Kozick, a young Tennessean (God bless the Vols) who took care of plenty of administrative work on our behalf.
Alongside Patrick is Jacob Reynolds, another professor at IBI — and we had a wonderful BBQ at his home on our first Monday evening, where we got to meet a bundle of IBI folks. We dined with Steven and Joan Singleton in the Temple Bar area one evening, and got to spend time with Sean and Anna Mullan, Linda Basdeo, Louise and Andy Halpin, Jonathan Schuster, Ruth Burns and Dawn Langrell.
Second, the first week was full of speaking: on Sunday I spoke at the Maynooth Community Church (met Keith and Kevin and many others), spent the afternoon with the folks from this church at a lovely barbecue (can't remember all the names), and then Sunday night Patrick carted us up to Grosvenor Road Baptist Church (John Samuel is pastor). On Tuesday we did a one day session on the Early Christian gospel themes, and then Wednesday we took the train up to Belfast, invited by David Shepherd at Belfast Bible College, where I lectured on atonement theory and then the next morning to a group of students from Queens University Belfast and Belfast Bible Institute … once again on the early Christian gospel. It was good to meet Bob Keay and Audrey at BBC … Thursday night we were back in Dublin and I did another lecture on atonement.
Then we did the Friday and Saturday's institute on the gospel … and it was both engaging and two solid days pondering how the apostles understood the gospel, all with a view to examining the gospel of evangelicalism and how we might better conform to the NT witness to the gospel. I hope to have the manuscript of this book ready for submission by early July — and my tentative title is In the Beginning was the Gospel. And there was so much Q&A that ideas were clarified and implications explored … and I felt at times that it was a laboratory on missional and gospel work in Ireland. I was blessed to see so many young, vibrant 20-30somethings present.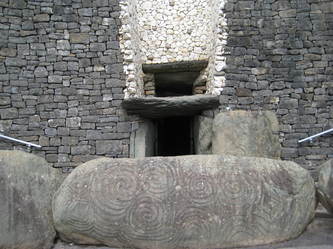 There was some travel in there: on Friday, after napping a bit, Tony and Leslie Coffey kindly took us to Glendalough for a brilliant day at the ancient site of St Kevin.
Then on Monday Patrick and Kris and I, along with Andy and Louise and Linda, did some sightseeing: Newgrange (an ancient burial site — to the right), Monasterboice (an ancient monastery) and the headquarters for the Battle of the Boyne (William of Orange and King James).
Thank you Patrick, Jacob, Stephanie for all you are doing in Ireland and for inviting us to Ireland. We are profoundly grateful.