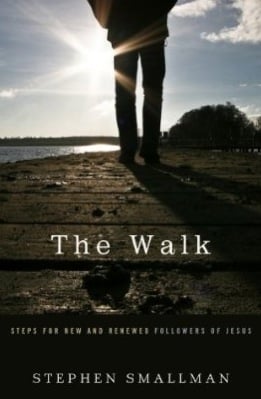 If you could tell a new follower of Jesus the five most important elements of following Jesus, what would they be?
Christian publishers used to publish lots of "new Christians" books but I'm not aware that such a genre of books is as popular as they once were, and that is why I'm happy to recommend Stephen Smallman's new book:
The Walk: Steps for New and Renewed Followers of Jesus
.
Just what you tell such a person matters deeply, and what shapes what you tell them is how you understand what it means to be a "Christian." That is why I like Stephen Smallman's framework: it's about being a "follower of Jesus." That category shapes the entire book and it's the right category.
The book reflects mature experience — in fact years of pastoral experience — with young and renewed followers of Jesus, and it is simple and accessible but theological and solid. Smallman hails from the Reformed crowd.
Here are his topics: what is a disciple?, do I have to go to church?, learning the Bible and how to pray, know the gospel, the call to salvation and discipleship, conversion (see here), a new record: justification, a new life: sanctification and adoption, a new future: glorification, faith expressing itself in love, the gospel changes everything, and disciples making disciples … with some good extras at the end (like resources and book suggestions).