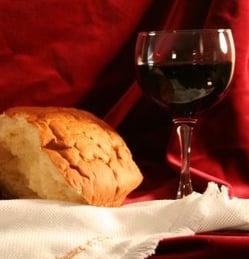 John Mark Hicks,
Come to the Table: Revisioning the Lord's Supper
,
explores themes of the Eucharist in such a fresh manner.
His fifth theme is about grace. The Table is not a burden to bear nor is a guilt trip to experience. It is a profound gift of God to you and to me: at this Table God offers us grace in forgiveness and fellowship.
God does not call the perfect to the Table but the imperfect; he does not call the sinless but the sinful. What God offers is grace to the imperfect and sinful.
The Table is not a Table of judgment, but a Table of grace.
Here at the Table we see the Cross as Grace, the offer of God to be reconciled with God through the death of the Son whose death brings life.
If you feel sinful, the Table is for you.