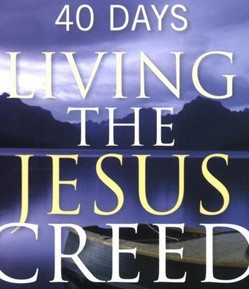 We got fresh word recently that a number of churches, from a variety of denominations, are using
40 Days Living the Jesus Creed
for Lent.
So let me encourage you, if you are looking for ideas, to consider using Lent as a time to reflect on and pray about and practice loving God and loving others — with a view to God's love in the cross and resurrection.
We tend to think of Lent as a time of sorrow and repentance and grief, and that is one of its core ideas. But we don't grieve in order to heighten our capacity to grieve or repent so we can focus on our ability to repent. If Lent has its proper impact, it will form us spiritually — and to be formed spiritually is to grow in love of God and love of others.
This book has 40 short studies on the Jesus Creed — beginning with Jesus and then developing how the rest of the New Testament took Jesus' fundamental idea and reapplied it and reused it and saw it as the center of how a follower of Jesus is to live.