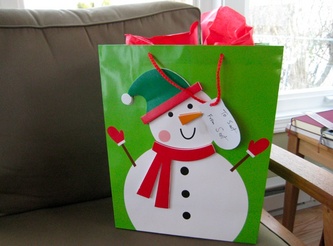 We were with our kids recently, and they reminded me that one of their favorite Jesus Creed posts in previous years is when I offer a gift to a reader who guesses what is in my "to Scot from Scot" gift that I put under our Christmas tree.
Every year I buy myself something and wrap it up and put it under the tree. The upside of this, of course, is that I get what I want. The downside is that it's a surprise to everyone but me. This year I bought myself something and I'm offering the Jesus Creed readers an opportunity to guess what I bought.
It's in this bag. What do you think it is?
Guesses will be accepted until Friday at 5pm Central Time, at which time I'll announce the winner and the winner will be given a gift:
A bag of Intelligentsia Black Cat coffee beans.
You can guess more than once, but keep it under control.
If you guess right and live in a foreign country, we will give you a $20 gift certificate to Amazon.