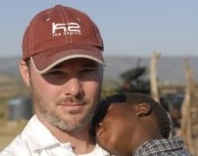 I have been saying for about a month now that I wanted to make a proposal with readers of the Jesus Creed blog. Today I would like to announce that I'm asking you to join Kris and me in supporting a CarePoint in Swaziland that could make a life-saving and spiritual difference in the lives of hundreds of underfed and orphaned children.
Here's what we are asking you to do: We want to join together financially, in prayer, and eventually in trips to Swaziland. We want to focus the Jesus Creed blog's concern on a CarePoint called Mabanteneni. We are committing funds to HopeChest, an organization designed by Tom Davis (pictured), and they will process our gifts and provide funds and services for Mabanteneni and the children there.
But this is more than giving money for food. We want to help build a sustainable infrastructure at Mabanteneni. Thus, I want to share with my goal: I'm praying and yearning and hoping you will join us to begin by providing healthy food for children and discipleship training by a local pastor. Then we want to help with the construction of structures, including things like a kitchen, a well for clean water, fences for security….
Let me tell you more about Mabanteneni.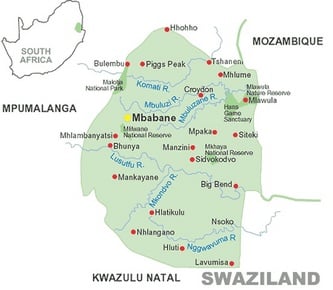 First, if you'd like to read Tom Davis' own story, please order and read his
Fields of the Fatherless: Discover the Joy of Compassionate Living
. If you'd like a fictional presentation of the realities of orphaned children, see his
Scared: A Novel on the Edge of the World
. These two books will reveal Tom's heart and why we are going with HopeChest.
Our CarePoint, Mabantaneni, is located in the Nsoko region of southern Swaziland. Recent years has dealt this region a serious famine and both the HIV/AIDS and orphan crisis is particularly severe here. Swaziland is losing over 2% of their population each year to AIDS and the overall population has decreased nearly 300,000 to approximately 950,000 over the past 5 years.
It is estimated that 12% of the population are orphans. There is little economic opportunity and the current rate of children reaching 5th grade in this region is around 40%. HopeChest was recently in this region and visited 4 new CarePoint locations as well as a number of 'homesteads', and they report that the situation there is desperate.
Recently, Bob Mudd, with HopeChest, saw a 4 year old girl who had pushed a wheelbarrow more than mile with four empty, dirty water bottles. She had traveled to the CarePoint to get water for her and her family.
This CarePoint is anchored to the Nsoko CarePoint that was started by Pastor Walter. He is a well educated native Swazi that left a law practice to start the ministry in Nsoko. He has mapped out a CarePoint and Church planting strategy for the entire region. Currently, the anchor CarePoint has a church, his homestead, a soccer field and a small medical clinic (the only one available to the people in the region) that will be opening soon.
It is also a homebase for 'World Race' participants. (We are asking the Jesus Creed community to cooperate with World Race folks to care for Mabanteneni.) When HopeChest's leaders were in this region recently a group of 9 college age students were spending 3 months in service to Pastor Gifts CarePoints in the region. There is a Safari within 20 miles that provide for accomodations for visiting teams when they travel.
One of HopeChest's leaders, Bob Mudd, spent significant time with Pastor Gift and they all have the highest level of confidence in his ability to lead this ministry operationally and spiritually.
Below is his description of this CarePoint:
Mabantaneni 1 was started during the height of the famine. It was started as a community drive. The community came to us and asked for help – there was no food and they were sick.
Many of the children are young – many are the children of young ladies who are unwed and leave the children with the grannies of the neighborhood. Now the mothers are sick and dying of AIDS. Bob has taken 8 at a time to the clinic. They have sores of all kinds – ear infections, distended stomachs and red hair from malnutrition. Some are showing signs of being HIV positive. The Chief has donated land but right now the CarePoint is at a temporary place until there are funds to develop the piece of land – fence, kitchen, then other facilities.

HopeChest in Swaziland typically works a three phased approach that is laid out simply below:

-Phase I
*Launch child sponsorship which will insure daily feeding to all of the children in the region of the CarePoint (considered walking distance).
*Begin discipleship through weekly scheduled activities. When World Race or JesusCreed teams are in country we can run week-long camps.
*Begin fundraising for long term CarePoint needs to include a fence, kitchen, storage and multipurpose building (often used for school and church activities).
Phase II
*Begin to meet the security needs of the children through development of an education strategy, long term health strategy, micro-enterprise and potentially foster-care.
Phase III
*Community development, including family training (80% don't have fathers in the home) and church planting.