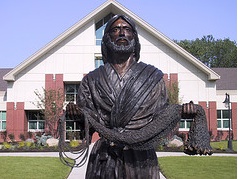 I had a great time at
Ashland Theological Seminary
giving four lectures on the topic "The Battle for the Gospel." Just a brief note on the various lectures: first, an introduction to the gospel in current evangelical conversation, the gospel of the kingdom, the gospeling sermons of Peter and Paul in Acts, and how the conversion statements of Paul reveal his understanding of the gospel.
Ashland, one of the cities in the heart of Ohio — home of such notables as one of my favorites, James Thurber — and where one senses that tranquility follows hard work, was a delightful place to visit. David Baker and his wife, Morven (hope I got that right), kindly picked me up at the airport and we shared the table at an Italian restaurant. David years ago accepted my proposal to edit a book with Jimmy Dunn on the historical Jesus. I got to spend time with some of the fine professors at Ashland, including David DeSilva, John Byron and Lori, Wyndy Corbin-Reuschling, Alan Bevere, Russ Morten (and Dawn), Charlene Moss, and Paul Overland. I got to spend time in Dan Hawk's senior seminar class where we talked about atonement — good group of students — and a final luncheon with some discussion was fun. I felt at home with these folks, and I highly recommend the seminary.
One of my highlights was seeing some old friends, including Matt Montinnini (and wife), Ted Gossard, some pastors I had met, some book-and-blog readers, and Mark Farmer who has written a post or two for this blog.
Perhaps the highlight for me was all the pastors in attendance — my lectures were shaped for the pastor-evangelist and the role pastors play in "mediating" the gospel and how to "gospel" in our world today. Great questions and comments.