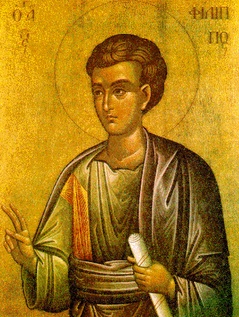 Saul's persecutions led to the scattering of the gospel agents who were caught up in the mission of God through Jesus Christ. One of those who were scattered was
Philip (->)
.
As is clear in Beverly Gaventa (The Acts of the Apostles (Abingdon New Testament Commentaries)

), Philip's story is about encountering religious outsiders — read the whole story if you have time:
8:4 Now those who had been forced to scatter went around proclaiming the good news of the word. 8:5 Philip went down to the main city of Samaria and began proclaiming the Christ to them. 8:6 The crowds were paying attention with one mind to what Philip said, as they heard and saw the miraculous signs he was performing. 8:7 For unclean spirits, crying with loud shrieks, were coming out of many who were possessed, and many paralyzed and lame people were healed. 8:8 So there was great joy in that city.


8:9 Now in that city was a man named Simon, who had been practicing magic and amazing the people of Samaria, claiming to be someone great. 8:10 All the people, from the least to the greatest, paid close attention to him, saying, "This man is the power of God that is called 'Great.'" 8:11 And they paid close attention to him because he had amazed them for a long time with his magic. 8:12 But when they believed Philip as he was proclaiming the good news about the kingdom of God and the name of Jesus Christ, they began to be baptized, both men and women. 8:13 Even Simon himself believed, and after he was baptized, he stayed close to Philip constantly, and when he saw the signs and great miracles that were occurring, he was amazed.
8:14 Now when the apostles in Jerusalem heard that Samaria had accepted the word of God, they sent Peter and John to them. 8:15 These two went down and prayed for them so that they would receive the Holy Spirit. 8:16 (For the Spirit had not yet come upon any of them, but they had only been baptized in the name of the Lord Jesus.) 8:17 Then Peter and John placed their hands on the Samaritans, and they received the Holy Spirit.
8:18 Now Simon, when he saw that the Spirit was given through the laying on of the apostles' hands, offered them money, 8:19 saying, "Give me this power too, so that everyone I place my hands on may receive the Holy Spirit." 8:20 But Peter said to him, "May your silver perish with you, because you thought you could acquire God's gift with money! 8:21You have no share or part in this matter because your heart is not right before God! 8:22 Therefore repent of this wickedness of yours, and pray to the Lord that he may perhaps forgive you for the intent of your heart. 8:23 For I see that you are bitterly envious and in bondage to sin." 8:24 But Simon replied, "You pray to the Lord for me so that nothing of what you have said may happen to me."


8:25 So after Peter and John had solemnly testified and spoken the word of the Lord, they started back to Jerusalem, proclaiming the good news to many Samaritan villages as they went.

Genuine participation in the mission of God is participation in the power of God at work; that means missional agents may be idolized and idealized and may be tempted to share their power (which is not theirs, but is God's) with those with money and power. The power of God at work in Jesus Christ is an alternative power system. Philip is that agent in this context.
Genuine missional work is continuous with the work of the apostles, who come down to Samaria to bless that work in order to impart the Holy Spirit to those people.
Not all that sparkles is genuine: Simon seemingly believed but his belief was inadequate because he quickly wanted to purchase the power of God. He was summoned to repent from his "simony." Missional work is messy. But it only works with those who empty themselves for the power of God to work (Gaventa's observations are good).
Finally, missional theology breaks down boundaries between people groups and religions.