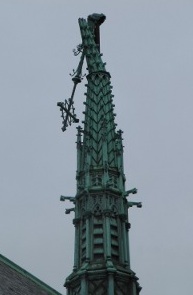 John Piper has connected the Minneapolis tornado to God's judgment on the Evangelical Lutheran Church's very public debate about homosexuality. I have clipped some of his post which you can read at the link at his name in the previous sentence.
The issues here involve these questions:
How do we know these things?
How consistent are we in making such discernments?
And this: Have you ever seen a calamity or a disaster and truly believed you knew why that event happened or why God made that event occur? How did you know that sort of thing?
Here is [an excerpt from] Piper's article:

I saw the fast-moving, misshapen, unusually-wide funnel over downtown
Minneapolis from Seven Corners. I said to Kevin Dau, "That looks
serious."



It was. Serious in more ways than one. A friend who drove down to see the damage wrote,


On a day when no severe weather was predicted or
expected…a tornado forms, baffling the weather experts–most saying
they've never seen anything like it. It happens right in the city. The
city: Minneapolis.

The tornado happens on a Wednesday…during the Evangelical Lutheran
Church of America's national convention in the Minneapolis Convention
Center. The convention is using Central Lutheran across the street as
its church. The church has set up tents around it's building for this
purpose.

According to the ELCA's printed convention schedule, at 2 PM on
Wednesday, August 19, the 5th session of the convention was to begin.
The main item of the session: "Consideration: Proposed Social Statement
on Human Sexuality." The issue is whether practicing homosexuality is a
behavior that should disqualify a person from the pastoral ministry.
The eyewitness of the damage continues:

This curious tornado touches down just south of
downtown and follows 35W straight towards the city center. It crosses
I94. It is now downtown.

The time: 2PM.
6. Conclusion: The tornado in Minneapolis was a gentle but
firm warning to the ELCA and all of us: Turn from the approval of sin.
Turn from the promotion of behaviors that lead to destruction. Reaffirm
the great Lutheran heritage of allegiance to the truth and authority of
Scripture. Turn back from distorting the grace of God into sensuality.
Rejoice in the pardon of the cross of Christ and its power to transform
left and right wing sinners.