If I were a pastor or a youth pastor, if I were a small group in Texas, and if I lived within 500 miles of Laity Lodge — I'd do everything I could to get folks to spend a weekend retreat at this beautiful setting in the hill country of Texas.
And I'd want to do this especially if I were working with youth and wanted them to get away and really get away. Quiet, great things to see, but yet very much away.
We were with St Matthew's Episcopal Church from Austin, and we just loved those good folks and we were welcomed by them. Some of them have been coming annually (or more often) to Laity Lodge since the 1970s.
We were invited by fellow blogger and author and a pastor-scholar I've admired from afar, Mark Roberts. Mark is now the resident theologian at Laity Lodge. So, it was great to spend time with him.
And even more importantly, a wonderful opportunity for ministry with the good folks at St Matthew's. (I'll avoid even beginning to mention names, but I'd begin with Margaret and Larry and Marty and Amy and… and … .) I did a talk about Mary and Jesus Creed and the Cup of Cold Water and then the kingdom vision for local churches.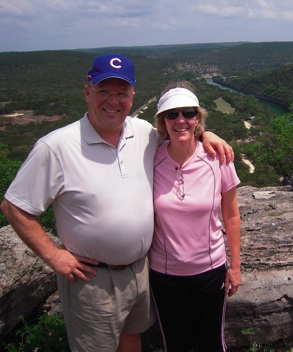 We took a long hike up to Circle Canyon (?) and we admired for lengthy spells the hummingbirds … and the awesome water in Frio River … and sights and sounds. All in all, Laity Lodge is sacred space for so many people and we are honored to say we've been there. The colors, the architecture, the setting … aesthetics at work.
Think about taking your group there … we've even thought of how we can get folks from up this way to go down for a retreat.