Here is Chicago's famous cauldron on a hazy sky night.
There was an interesting series of responses at "On Faith" for the Washington Post about whether or not we should read the Bible, a concern of mine in The Blue Parakeet. Two of the more suggestive ones are by Jim Wallis and Susan Thistlethwaite. Milwaukee's archbishop Timothy Dolan moves to NY to be archbishop there. G-Rated movies doing well. Tamara's surprise.
My opinion: the only people I pay attention to who criticize internet sites (blogs, Facebook, etc) are folks who have actually participated in it seriously.
Here's some fun. If a picture is worth a thousand words, then CT's new picture blog is worth a thousand blogs.
You've got to read this piece about Deborah, one of my former students.
Speaking of blue parakeets, I've been had by :mic. I laughed on this one for a long time. Dan Reid is no "maestro" Bible reader: good metaphors for theology. And you've got to read his advice to readers about kinds of writing. One of the best pieces of advice I've seen on Lent. But read this, too. Lent is the time for confession and brother Don does. It takes so long to fill little bottles to remind us of what we can be grateful.
Here's a view of Facebook's uselessness.
The Ellington quarter is fantastic; we need an ML King Jr 1 dollar bill in constant circulation.
Have you seen the Semi-Pelagian Narrower Catechism? Wow, is this thing funny. (HT: MV)
Tim Keel's reflections on rest . Barna's newest study is on the "technology gap." Anne Jackson has fired up the conversation about online "community."
John Stackhouse's new book — worth your reading.
Jim Martin has a good question and some good discussion: the neglected curriculum.
James Dobson has stepped down as board chair of the ministry at Focus on the Family. Dobson led the Christian resurgence of discipline, worked out a Christian theory of self-esteeem, and has been a leader for millions of conservatives on marriage and family concerns.
1. Pay as you go phone plans.
2. The impact of texting on the next generation.
3. I've seen some progress on racism in my lifetime, and perhaps Holder's way is the way forward; but Goldberg's not convinced. Michael Eric Dyson is.
4. Maybe we'll have time to visit this area of Cape Town this summer.
I wonder what the Pope said when his little cap blew off?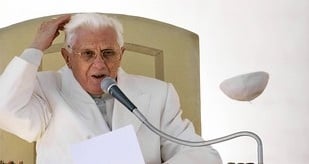 5. Nordlinger has the audacity of hope, too.
6. FAFSA form.
7. The costs of the death penalty.
8. My favorite period in class as a grade schooler? Yes, stats prove it helps.
9. Very serious, but helpful, research on abuse and its toll on life and health.
10. And Brooks is always serious: "I fear that in trying to do everything at once, they will do nothing
well. I fear that we have a group of people who haven't even learned to
use their new phone system trying to redesign half the U.S. economy. I
fear they are going to try to undertake the biggest administrative
challenge in American history while refusing to hire the people who can
help the most: agency veterans who are registered lobbyists."
11. A wildfire in our neighborhood.
Sports