My favorite blog-photographer is Steve McCoy, a pastor in our area. I hope you visit his photography stream. Great stuff and I picked this one for a winter scene. I'm hoping the road of this winter is coming to an end sometime soon. Enough already.
As you look down this wintry road toward Lent, I suggest that you take a good look at Christine Sine's Lenten guide — and I, too, will have something to announce about Lent shortly.
Stephen Shields has put the emerging church conversation together very well. See here and here and here. I suspect this piece at Next Wave may well prove to be a pivotal piece in the next few years — it is a broadly-based, if all white male, perspective on what has happened and what could happen to the emerging movement.
An extensive study of Mark Driscoll by Molly Worthen.
Carolyn Custis James, an author, is part of an organization for women and men working together in a Blessed Alliance, and they have a conference coming up this March in Florida — check it out.
Dan Kimball's latest hit — and I hear Dan likes the Apple Wheel.
What's your favorite line in this story? And Mart DeHaan has some good lines …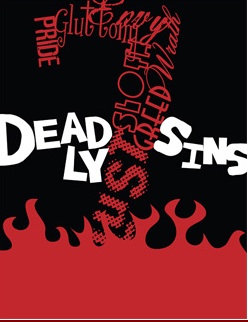 David Fitch challenges Alan Hirsch's contention that missiology precedes ecclesiology. As is always the case, David is on to something here but I need to see how "missiology" is defined before I can climb on board with him. But, Dan, some of us would prefer that the observer be distracted to the shelves! Erika has a good question and some good conversation. Kyle Strobel reflects on the seven deadly sins for theologians. On a steady basis, the iMonk puts up wonderful posts … here's a good, thoughtful one. A vintage blogger with the sort of thing that blogs alone can do. Bob Robinson's flow chart on missional churches. I totally agree with Fr. Rob. J.R. gets salty about what many say about hell. Spirituality, children and a reflection by Henry Zonio.
This is where we are today and we need to concentrate on it more (Barna's new report): "By a three to one margin (71% to 26%) adults
noted that they are personally more likely to develop their own set of
religious beliefs than to accept a comprehensive set of beliefs taught
by a particular church. Although born again Christians were among the
segments least likely to adopt the a la carte approach to beliefs, a
considerable majority even of born again adults (61%) has taken that
route. Leading the charge in the move to customize one's package of
beliefs are people under the age of 25, among whom more than four out
of five (82%) said they develop their own combination of beliefs rather
than adopt a set proposed by a church."
Third Way truth-telling: "Like countless Africans, Mzolisa looks forward to Barack Obama becoming
America's first black president Jan 20. But — like countless Africans —
Mzolisa says she will always be grateful to Bush for his war on AIDS,
which has helped to treat more than 2 million Africans, support 10
million more, and revitalize the global fight against the disease."
Last week, as a bit of responsible journalism, we reported that Ed Dobson, a harmless conservative evangelical, tried to live like Jesus for one whole year. Well, that commitment led him to (gasp) sip on a beer or two and (gasp, gasp) to vote Democrat. Our responsibility didn't end last week. There's some Fallout for Ed, who evidently is no longer so harmless: here and here and here.
So what are we to do if this is accurate?
I can't get over that pilot and co-pilot successfully landing that plane in the Hudson without loss of life. Awesome.
News and Views:
1. An excellent article on healthy foods we don't eat enough.
2. One of Obama's biggest challenges, with no easy solutions; but we hope and pray that Obama and others can resolve these serious health care issues.
3. Why wasn't this news item worthy of national attention?
4. Bono probes the duality of Frank Sinatra's famous song "I Did It My Way." Keep your eye on Steve's picture above when you read Bono's piece.
5. Even Googling creates a carbon footprint.
You'd be tired too!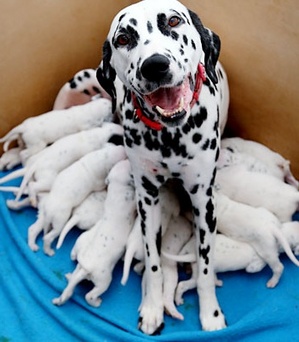 6. Charter schools, immigrants and the preservation of traditional culture.

7. It's never too early to think through retirement plans.

8. Pinker is always interesting: the genome project. I suspect this will become a major issue someday.

9. Will churches/sermons follow suit?

10. A new virus that infects PCs.
Sports: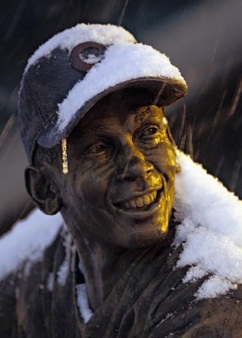 One of Chicago's finest Cubs, Ernie Banks, may be blanketed with snow but he's happy to be at bat. Ernie's our best representative in the Hall of Fame.
Rickey Henderson is elected to the Hall of Fame, which means I bring out one of his famous lines: A reporter asked Henderson if Ken Caminiti's estimate that 50 percent
of Major League players were taking steroids was accurate. His response
was, "Well, Rickey's not one of them, so that's 49 percent right there."