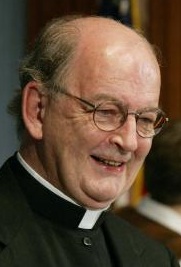 Fr. Richard John Neuhaus, a leading voice of Catholic conservatism in
America, and one of those rare theologians and spiritual leaders whose
influence vastly exceeded the boundaries of their religious community,
has died at 72.
Neuhaus slipped away Jan. 8, shortly before 10 o'clock Eastern time.
He never recovered from the weakness that sent him to the hospital the
day after Christmas, caused by a series of side effects from the cancer
he was suffering.
A priest of the New York archdiocese and a former Lutheran minister,
Neuhaus was best known to society at large as an intellectual guru of
what came to be known as the "religious right."
Even when I disagreed with Neuhaus, I respect his keen intellect and powerful moral vision. He will be greatly missed. Long live the memory of Fr. John Neuhaus.