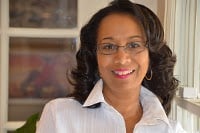 A Ghost? Or Our God? By Patricia Raybon
It's dark, cold and early. But I'm excited. On this morning, the most important thing I have to do is hear from God. And not just a little bit. I want to hear without limits. Isn't that what we're all saying today? That we want to be blessed by God this year? So we can bless God without limits?
And with those words, I start my new devotional, God's Great Blessings, a project for Tyndale's robust One Year brand. I tried to write bold, that is. To sound tough. To feel unmovable. To act courageous. But I'm not these things. Not every day. And surely not by nature.
I'm like the disciples in the Gospel of Mark. Seeing Jesus walk on water—as bold and audacious as ever—they were terrified, assuming one thing. A ghost.
So they held back.
Just as I did. Or tried to. But this time, I wrote on God's great virtues—and how he blesses them deeply. Still, I played safe, exploring "soft" virtues—love, listening, kindness and so on. But a One Year devotional runs 52 weeks. And God walks deep. So soon came the tough stuff—persistence, truth, unity, sacrifice, justice. Then came courage. But what would I say?
I'd forgotten Who defines our courage. It's God first, offering his audacious promise that when we battle for Him, He battles with us. Talking to Joshua of the Bible, as the young leader readied to conquer the Promised Land, God said it like this: "Be strong and courageous! Do not be afraid or discouraged. For the Lord your God is with you wherever you go." (Joshua 1:9 NLT)
Jesus put it this way: "Take courage! I am here!" (Mark 6:50 NLT) He was walking that water, talking real to his disciples—knowing they were quaking, seeing him as fearsome and ghostly. But Jesus countered. Don't be afraid. Instead, take courage. I am here. Not just anybody. But I AM. Not ghost. But God.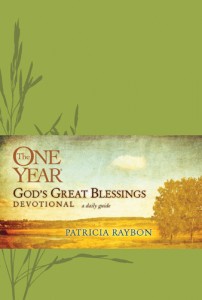 Just a bunch of Jesus talk? Or the real deal? Let's dare to find out. To stop trembling and holding back. To stop waiting to get tough. Instead, pray bold. Ask God for courage. Then get moving, knowing that as you face your fears for God, the Lord will bless you with Himself.
Award-winning author Patricia Raybon's newest book is the One Year® devotional, God's Great Blessings. She is also author of two acclaimed memoirs, My First White Friend and I Told the Mountain to Move. She also collaborated with calligrapher Timothy Botts in his gift book honoring African American spirituals, Bound for Glory. Learn more at her website: PatriciaRaybon.Com