Jazz Theologian Live! Experiences
Thousands of people have packed into 'standing room only'
Jazz Theologian Live! experiences.
They are a beautiful marriage of the spoken word with jazz, soul, and
gospel music in which seeker and seasoned Christian alike are invited to
compose a jazz-shaped faith. Thus,
giving way to an experience of the gospel unlike any other method, movement, or
structure ever could. Using
metaphors found in jazz these experiences reveal the breath-taking
possibilities for the body of Christ and a more genuine expression of our
personal faith.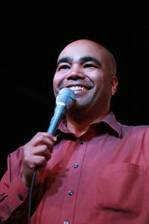 They are held in a local jazz venue and the doors open to a
line of people formed outside. The
expectant crowd makes their way in, orders food and drinks and enjoys
conversation with one another. The
band begins to play a set of music slowly drawing in the crowd. I then take the stage with the band and
explain that you don't have to be a jazz musician, or even a jazz connoisseur,
to compose a jazz-shaped faith. I
ask, "What if Ralph Ellison was right when he said that all of American life is
jazz-shaped?"
Jazz can help us understand Jesus, his vision for those who follow him, and his heartbeat for a world that is badly out of sync. After attending, Wayne, a pastor said that he was taken "on the Gospel's journey through the depths of human blues to the heights of the toe-tapping syncopating jazz improvisation. It is an awesome one-of-a-kind experience that both entertains and impacts. I invited my entire staff after experiencing it for myself." Married couple, Michael and Catherine said, "We found the rhythm of God's beat together. We listened, prayed and talked together to learn how to perfom with God in concert together."
Resident Jazz Theologian Live! Program @ Colleges & Universities
I also enjoy interacting with students at colleges and universities through my, Resident Jazz Theologian Experience. It is an in-class learning experience with interactive dialogue that ties together American History, stories of jazz greats and the basic elements of jazz for the purpose of considering scripture, community, church and calling in a fresh way. In partnership with the school's music department we then put on a Jazz Theologian Live! night together.
I'm on a Mission!
I'm on a mission to see a renaissance in the church in America that would bring about a vibrant new generation of believers who truly live the kingdom of God. My goal is to raise up jazz theologians.