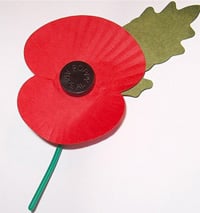 Some people have way too much time on their hands. Object to a commemoration of Muslims who lost their lives in war? How can that possibly be a bad thing — especially when it's in a particularly Muslim way.
Yes: I'm talking about the controversy in Britain over the poppy print scarf: "a Muslim head scarf with the iconic poppy print, launched by the Islamic Society of Britain, and sold online by British Future, with the money going to the Poppy Appeal".
Methinks it's a beautiful way to remind the world that Muslims, too, have died for their country. After all, it was a century ago now that Sepoy Khudadad Khan, of the 129th Baluchis regiment, became the first Muslim to receive Britain's Victoria Cross for bravery.
As British Future puts it: "It is hoped that the garment will serve as a symbol of Britain's diverse and shared history and the coming together of people from all backgrounds to remember in this centenary year." Only a fanatic would disagree.
(Photo of Royal British Legion's Paper Poppy by Philip Stevens courtesy of Wikipedia Commons)