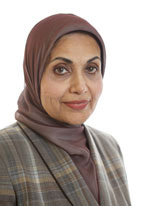 Guest Editorial
By Sarwat Husain
Council on American-Islamic Relations
The Prophet Muhammad was born on the 12th day of Rabi-Al-Awwal, the third month in the Islamic lunar calendar, more than 1,400 years ago.
He remains misunderstood in much of the Western world and, especially in the post-9/11 era, a target of ferocious rhetorical attacks. To counter these attacks, I present just a few of the positive assessments of the Prophet by historians and writers who are not Muslims.
"Like almost every prophet before him, Mohammad (was) shy of serving as the transmitter of God's work, sensing his own inadequacy," author James A. Michener wrote in "Islam the Misunderstood Religion" in Readers Digest in 1955.
"When his beloved son Ibrahim died, an eclipse occurred, and rumors of God's personal condolence quickly arose. Whereupon Mohammad is said to have announced, 'An eclipse is a phenomenon of nature. It is foolish to attribute such things to the death or birth of a human being.'"
In his 1992 book "The Hundred: A Ranking of the Most Influential Persons in History," Michael H. Hart wrote that his choice of Mohammad to top the list "may surprise some readers and may be questioned by others, but he was the only man in history who was supremely successful on both the religious and secular level."
Lamartine, in his history of Turkey published in 1854, wrote, "If greatness of purpose, smallness of means, and astounding results are the three criteria of human genius, who would dare to compare any great man in modern history with Mohammad?
"The most famous men create arms, law and empire only. They founded, if anything at all, no more than material powers … This man moved not only armies, legislations, empires, people and dynasties, but millions of men in the one third of the then-inhabited world."
Edward Gibbon and Simon Ocklay, in their "History of the Saracen Empire," published in 1870, stated, "It is not the propagation but the permanency of his religion that deserves our wonder."
Mahatma Gandhi remarked, in a statement published in "Young India," in 1924, "I wanted to know the best of the life of one who holds today an undisputed sway over the hearts of millions of mankind. I became more than ever convinced that it was not the sword that won a place for Islam in those days in the scheme of life. It was the rigid simplicity, the utter self-effacement of the Prophet, the scrupulous regard for pledges, his intense devotion to his friends and followers, his intrepidity in his own mission, his fearless, his absolute trust in God."
The Prophet Muhammad, peace be upon him, led a hard life even after gaining power and authority.
"We the community of the Prophets are not inherited," he said at his death. "Whatever we leave is for charity."
To quote K. S. Ramakrishna Rao, a Hindu professor of philosophy, Prophet Muhammad is "the perfect model for human life."
Rightfully, the Prophet Muhammad was given the title of "Rehmat ul Lil Alameen," which means "a blessing of God for the whole universe."