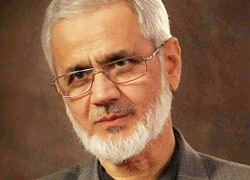 Muzammil Siddiqi and Muneer Fareed discussed shari'a in an afternoon session today (August 31, 2012) at the 49th annual convention of the Islamic Society of North America in the Washington (D.C.) Convention Center.
Dr. Siddiqi (pictured), chairman of the Fiqh Council of North America, started with the translation of the Arabic word, shari'a, into English, noting that it meant "to begin", "to enact", "to lay down". It's "something enacted" to "show the way to the source of happiness," he noted, adding that it's "not just laws and rules, but also acts of worship".
"Shari'a is a source of guidance for those sure of their faith," he said. This guidance comes from both the Qu'ran and the Hadith.
"The United States Constitution and the Bill of Rights are not in conflict with Shari'a," Dr. Siddiqi emphasized. "We do not see a confict with Islam. We are equal citizens without losing our Muslim identity. We can be faithful Muslims and loyal Americans."
Dr. Fareed, director for the Centre for Contemporary Islam, pointed out that Shari'a is applied on three separate and distinct levels: individual, community and global.
What is applicable at one level may not be appropriate at another, he said.
Shari'a helps Muslims live their moral vision and "do what is right", he concluded.
Ingrid Mattson, who also was scheduled to speak at this session, did not participate due to a family emergency.
(Photo courtesy of Muslim Public Affairs Council)