The first time I drove down to the Dead Sea, I almost ran off the road when acres of palm groves began dotting the barren landscape of the Judean Hills.
What is this? I wondered.
It was part of my awakening with regard to Israeli innovation. It is nothing less than astonishing.
Since then, I've developed a hobby of sorts in tracking the amazing inventions and technological advances in many arenas developed in Israel. Truly, this tiny nation—so controversial in so many circles—is benefiting mankind in ways few understand.
In fact, just this week I read a very moving piece about groundbreaking surgery being done in Israel to relieve the tremors that plague sufferers of Parkinson's Disease.
Now, my friend Marcella Rosen and her staff at Untold News are launching a new media campaign to highlight these amazing advances. With the tag-line "How to Make the World a Better Place? the Israel Is On It campaign raises awareness of Israel's major contributions to the environment, medicine, and technology.
(Her book, Tiny Dynamo, is a terrific little read on this subject.)
The campaign launched in January, with ads in the New York Times, and the objective is to inform and intrigue younger Americans with Israeli inventions, that benefit their lives. This Millennial Generation is often bombarded with propaganda from all sides, including the false charge against Israel that it is an apartheid state. The "Israel Is On It" campaign helps in a big way to destroy those false claims. In fact, especially for its size, Israel makes huge contributions to the betterment of people everywhere.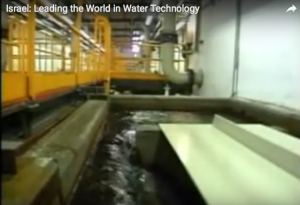 To date, visitors to the "Israel Is On It" website show that 76 percent are under 45. This is critically important in what Benjamin Netanyahu has called the Battle for Truth.
Take for example Israel's inroads into making seawater drinkable. The Middle East is parched in many places, of course. While oil is a precious liquid that fuels the region's growth, it has its limits. Water is an equally precious commodity and now with its innovative style, Israel is solving that problem. As the "Israel Is On It" website puts it:
"Six years ago, Israel was almost out of water. Today, there's plenty to go around, thanks to Israel's advances in desalination (removing the salt from seawater) and recycling of wastewater. Severe water restrictions (like limiting showers to two minutes) have been lifted.
"25% of Israel's fresh water is now created through desalination. Israel has also become the world leader in recycling wastewater for agricultural use. 86% of wastewater in Israel is recycled, creating more than half the water needed for farming.
"As reported in the New York Times, Israel has a multi-pronged effort to end the drought.
"Good for Israel. And because Israel is happy to share what it's learned with our drought-threatened world, good for all of us. Israel's IDE Technologies Ltd has built the US's largest desalination plant in San Diego, California using Israel-invented reserve osmosis technology."
This is but one example made available from the Untold News initiative. I highly recommend that you check out this amazing campaign, and then spread the word.
Israel deserves the PR, frankly.