For some time, Israel's enemies have been cultivating relationships in a seemingly benign environment: America's religious community. In particular, BDS (Boycott/Divestment/Sanctions) efforts have continued apace within mainline communities (Presbyterian Church-USA; United Methodist Church; etc.).
BDS proponents want to punish companies that do business with Israeli companies in the West Bank.
In particular, a strong effort by fair-minded Presbyterians has been successful in not only blocking BDS gains within the denomination, but in offering sensible counter-proposals.
According to an article by Maxine Dovere, in Algemeiner ("What Really Happened With the Presbyterian Church (USA) BDS Motion?"):
"At its 2012 GA, the PC-USA resolved to promote positive investment in the Middle East. The Church membership voted decidedly in favor of The Positive Investment resolution, passing it by a solid margin, 369-290, thus promising financial support for projects that include collaboration among Christians, Jews and Muslims. The Church voted to foster and help develop viable Palestinian infrastructure projects, for job creation and to encourage economic development."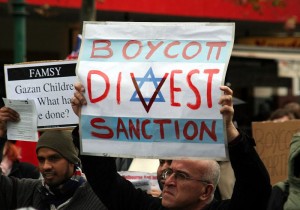 The Presbyterians defeated the BDS motion at the 220th General Assembly. That type of momentum has blunted the strenuous efforts of BDS proponents, such as Anna Baltzer.
Into this fray—and the wider BDS campaign—steps a tremendous resource for fair-minded religious folks…of any stripe.
HonestReporting, a group specializing in monitoring media bias, is front-and-center in efforts to pull the mask off the BDS agenda. Alex Margolin, social media editor for HonestReporting (www.honestreporting.com) is blunt in describing the real agenda of the BDS movement:
"BDS is a comprehensive, international strategy that seeks to present Israel as a pariah state analogous to Apartheid South Africa. Designed to isolate Israel politically, economically, militarily, academically and culturally, many of its member organizations aim to delegitimize the Two-State Solution and promote one state for both people, effectively replacing Israel with an Arab-majority state in all the territories of Israel, the West Bank and Gaza. BDS has become the central organizing principle around which almost all anti-Israel activity now revolves."
Strong charges, but obvious to anyone who uses objectivity in sorting-0ut truth from fiction.
Indeed, BDS proponents continually seek to demonize Israel, and yet seem unaware that their efforts actually harm the livelihoods of many Palestinians who rely on work in the West Bank to feed their families.
I've met with many Palestinians who (off-the-record, for fear of retribution from the PA) say clearly that life that involves some measure of interaction with Israel is much preferred to the corruption of the Palestinian Authority, or Hamas. Israel provides jobs, medical care, and housing (among other benefits) for Palestinians who otherwise would be in dire straits—such as their brethren in Gaza and elsewhere.
Sadly, not only church activists but media celebrities employ BDS to castigate Israel. Pink Floyd's Roger Waters comes to mind.
"BDS activists use the media to get their point across to the public," says Margolin. "They target well-known celebrities because they know they will get media coverage for it. That gives them a platform to promote their hostile views about Israel. Ultimately, they're looking to destroy Israel as a Jewish state."
Margolin elaborates on HonestReporting's efforts to oppose BDS:
"We are trying to inform people about the real goals of BDS – that it's not about "ending the occupation," as some media claim. It is about ending Israel as a Jewish State."
If you are at least curious about HonestReporting's claim, check out the myriad resources available on the group's website. HR's Facebook page, "Fighting BDS," is a fast-growing site that is informing many about the unjust nature of the Boycott/Divestment/Sanctions crowd.
In a world where competing ideas clamor for audiences, this is one that readers would do well to check out.