There are no facts to tell us what happened to the young Jesus during his "lost years" between the Nativity story and the day he appears at the River Jordan, age thirty, to be baptized. I was glad for this mystery, because it allowed me to describe an extraordinary youth who discovers, step by step, that he is the awaited Messiah. This isn't a fictional biography but a journey into the realm of miracles and, in the end, complete enlightenment.
It's been a long time — perhaps as far back as Thomas Jefferson — that Americans seriously considered Jesus, not as the Son of God, but as an enlightened teacher. For me, that doesn't rob him of his sacred stature. It puts sacredness in human terms.
I wrote my book, "Jesus: A Story of Enlightenment" to give readers an appreciation for how enlightenment unfolds from promising beginnings, not full divinity. In an age when Jesus threatens to become the exclusive property of fervent, literal-minded devotees, we have an urgent need to bring him back, not as the savior, but as a savior — one who won his own salvation before promising it to the world.
Warm regards,
Deepak Chopra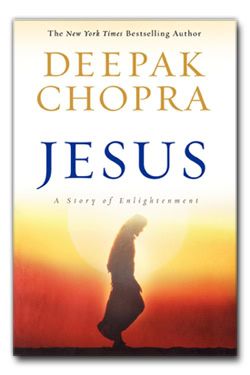 Pre-Order the book HERE