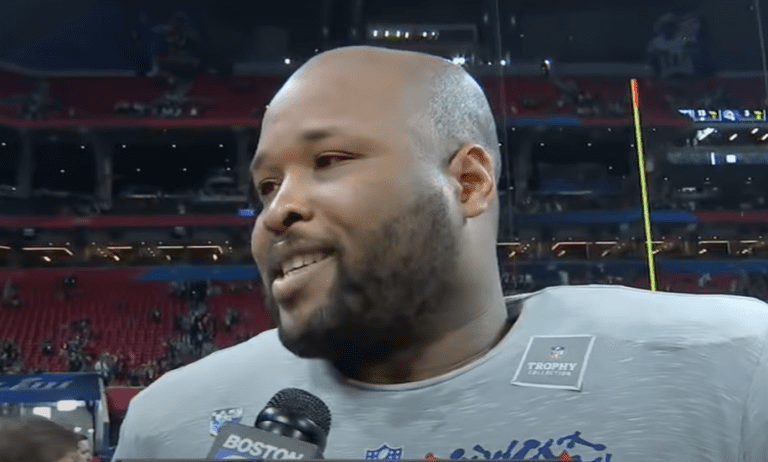 Three-time Super Bowl champion Marcus Cannon recently joined the Sports Spectrum Podcast to discuss his battle to overcome cancer and faith. Cannon played for Texas Christian University (TCU). Although he grew up in church, Cannon was drifting away from God when he started at TCU.
After an outstanding junior and senior year, he started preparing for the NFL combine and thought his projected draft pick would be the first round. However, as he went through the general testing for the combine, he was diagnosed with non-Hodgkin's Lymphoma during the medical portion. Cannon shared, "I remember when this first got dropped on me. The first thing I did was I cried."
He continued, "I called my parents, and then I started to pray. And then I called the pastor, and I drove up to the church where we go as a team, and I tried to talk to the pastor because that's all I had in Fort Worth. After all this crying and weeping and praying, there was a peace that came over, and it was like, 'I'm going to trust God. I'm going to trust God's going to get me through this.'"
As the NFL draft approached, Cannon's hopes for a first-round pick crashed, and he thought he would go undrafted. However, a phone call from New England Patriots coach Bill Belichick revealed that God still had a plan. Cannon was selected in the fifth round of the NFL Draft.
He recalled, "Not only did I get drafted, he [Belichick] was reassuring me that 'you don't even have to worry about this first year. We're going to pay you, and you're going to be on the team, and we're going to take care of all your health stuff.'" Cannon expressed, "Every step of the way, God was there for me even though I took time off of going and doing the Christian thing, doing the right thing, the godly thing. He was still there for me when I came back."
Cannon would go on to become a 3-time Super Bowl champion with the New England Patriots in 2015 (Super Bowl XLIX), 2017 (Super Bowl LI) and 2019 (Super Bowl LIII). He was then traded to the Houston Texans in 2021, where he would retire shortly after. A fan account for the New England Patriots, called Patriots 7th Ring, wrote on their X page, "Friday Facts: Marcus Cannon beat cancer, has 3 Super Bowl rings and the same number of playoff wins as Peyton Manning (14).
Cannon says he's grateful for the NFL combine, sharing, "Really, the combine maybe saved my life. It was a pure blessing. They found the cancer in time. If it weren't for the combine thing, I wouldn't have gotten the biopsy. It might have been a year or more before we found it. Maybe two or three years. That might've been too late."
Some may question why Bill Belichick would take a chance on Cannon, knowing he had cancer. However, it was all a part of God's plan for Cannon to fulfill his dream of playing in the NFL.