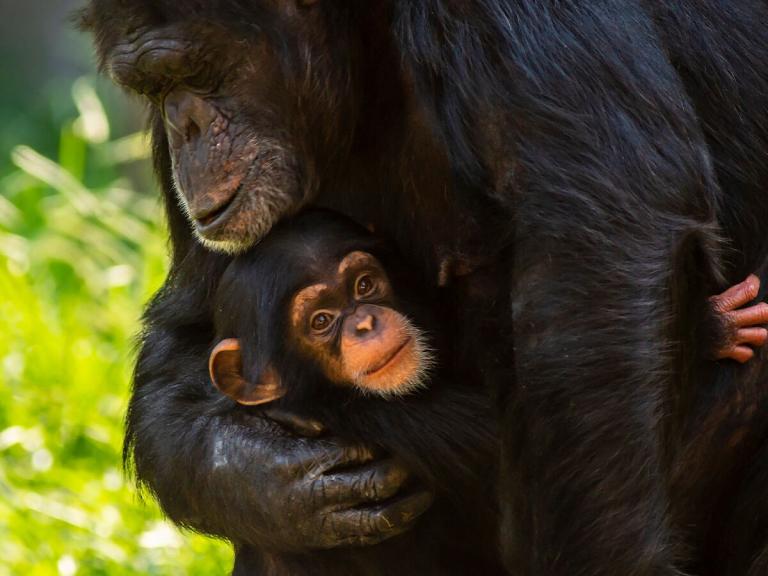 A chimpanzee mom has a touching reunion with her newborn baby after being separated for nearly two days due to complications during birth at the Sedgwick County Zoo in Wichita, Kansas. The chimpanzee, named Mahale, had to undergo an emergency C-section due to complications, leaving baby Kucheza, meaning "play" in Swahili, to be placed in the zoo's veterinary hospital. The zoo explained that the baby was hospitalized due to having a hard time getting oxygen, but has since made a speedy recovery. After nearly two days, Mahale was finally able to reunite with her baby, and the footage was adorable.
In the video, which was posted to the zoo's Facebook page, Mahale is seen entering her enclosure, not yet noticing that her baby, Kucheza, is swaddled in blankets in the middle of her room. She appears to take a closer look at what could be in the blankets, but was still unsure of what was there. That was until Kucheza's tiny hand stretches out towards her and she finally realizes that it's her baby. Mahale immediately grabs her baby for a touching embrace as she is finally reunited with her newborn. In the video, zoo staff can be heard in the background beginning to cry at the heartwarming sight.
"It's one of the most powerful things I've ever seen. She knows it's her baby laying there. The baby is being very still. She's looking at it like, 'What's going on?' And once he moves, you see the relief and the love and just, oh my gosh, it's just amazing. As a mom myself, it's just, oh my gosh," the zoo's communications director, Jennica King, told FOX TV Stations.
In the zoo's recent Facebook post they said that Mahale and Kucheza are "doing great."