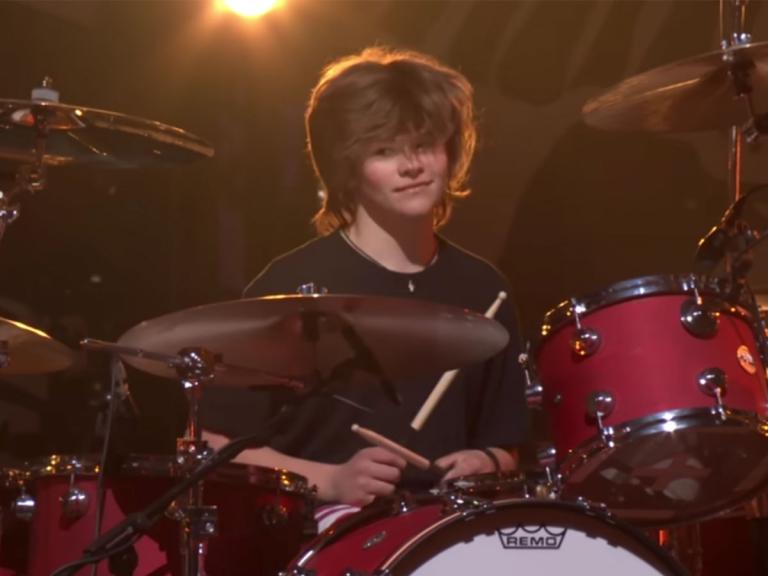 Stars like Sir Paul McCartney and AC/DC joined Dave Grohl and the rest of The Foo Fighters in honoring their late bandmate, drummer Taylor Hawkins, in a sold-out concert in London's Wembley Stadium this last Saturday. It was the first time The Foo Fighters had performed for an audience since Hawkins's death. Grohl, who was also Hawkins's best friend, opened the tribute concert saying, "For those of you who knew him personally, you know that no one else could make you smile or laugh or dance or sing like he could. And for those of you that admired him from afar, I'm sure you've all felt the same thing."
Hawkins's 16-year-old son, Oliver Shane Hawkins, gave a moving tribute to his father by drumming in his father's stead during the band's performance of "My Hero." A photo slideshow of father and son played in the background as he played. Taylor Hawkins is survived by his wife, Alison, and their children, Oliver Shane, Anabelle Hawkins, 13, and Everleigh Hawkins, 8. Alison and Taylor were married in 2005. The couple maintained a very private life during the course of their relationship. Hawkins did credit his family as inspiration for some of his songs, such as the song "Middle Child," which was inspired by Anabelle. The Foo Fighters have requested privacy for the family during this time, so Oliver Shane's presence at the tribute was especially poignant. Hawkins had been with The Foo Fighters since 1997, three years after its formation, leaving a gaping hole in his bandmates and friends' lives. Dave Grohl was clearly emotional during his performance of "Times Like These," fighting back tears during the middle of the song. The proceeds for the sold-out show will go to Music Support and MusiCares per the family's wishes.
Hawkins passed away at the age of 50 in March just before the band was going to perform at a musical festival in Bogotá, Columbia. Although an official cause of death has not been announced, Hawkins had complained of chest pains the day of his death. A toxicology report also confirmed the presence of various different substances, including marijuana and opioids but it has not been determined if those substances contributed to the drummer's death.