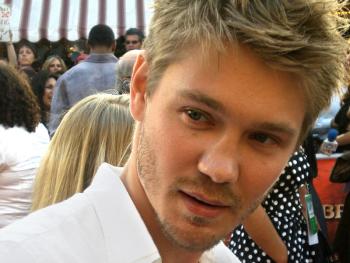 Chad Michael Murray recently shared how he withstands the pressures of Hollywood using his Christian beliefs as armor. Murray, who is married to actress Sarah Roemer, said he takes time each day to read Scripture and pray daily.
The 40-year-old actor and father said his faith was a good tool that helped him stay levelheaded and humble. Hollywood is a crazy place. There's a lot of noise and a lot of people trying to get your attention, and it can be really easy to get wrapped up in that and to forget what's important. Over the span of 22 years, Murray has declined several movies that he felt weren't in line with his Christian beliefs.
"I stick to the things I believe in. Let's just say a piece of material were to come across my desk, which has happened plenty of times over the last 22 years, that I don't necessarily feel is what I believe or what I'm selling — then that's not for me." Murray said during his interview with Fox.
It's always refreshing to see an actor stand up for what they firmly believe in, especially in Hollywood, where so many actors are being canceled or mocked for their Christian beliefs. Murray has said it hasn't always been easy, but he uses his faith as 'spiritual armor' and reads Scripture before going to work every single day.
"I feel stronger and safer walking onto my sets every day, knowing that I have God with me every day. Jesus is there with me every day," he said. "When you have that comfort that you just feel safe, you feel different, you feel the opportunity to handle more, your shoulders are bigger, you can carry more weight."
The former One Tree Hill star is set to star alongside Bruce Willis for their upcoming project with the WB, Fortress: Sniper's Eye. Murray believes he needs to be spiritually invested in any project he is a part of. Willis recently announced he's retiring from acting over health issues but it looks like he's wrapping up a few projects before doing so. Murray gushed about working with the Die Hard star.
"So for me, having that chance to walk on set and not just collaborate, but to truly create a relationship and get to know each other a little bit and talk and swap old war stories and joke around, goof, laugh and have those moments on set — those are moments that I don't take lightly, that I'm so utterly grateful for."
Murray also keeps his family close with him on projects to help him stay grounded.
"My family and I, for instance, we don't split up the pack. We go everywhere. My kids, my wife, they go everywhere we go. So, I'm on set chilling with Bruce Willis in Puerto Rico—they're there. Although they're on the beach, very different."
Chad Michael Murray has had a long and successful career since starring in shows like Gilmore Girls, Dawson's Creek, and One Tree Hill. The actor has also starred in nostalgic Disney movies like A Cinderella Story and Freaky Friday. Murray credits his faith and family for his successful career, and his devotion to both will never waver.
Christian or not, it's inspiring to see someone take a principled stand.