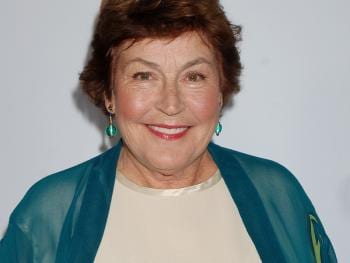 If the women's rights movement had a theme song, surely it would be the vocals of Helen Reddy.
Helen Reddy was an Australian-American singer, actress, and activist who will always be remembered for being a champion for women's rights. Her hit song "I am Woman" over time would become the anthem for women's rights globally, a cause Reddy was passionate about.
The song debuted in May 1972, and by December, it had reached No. 1 on the Billboard Hot 100, making Reddy the first Australian singer to top the U.S. charts. The song was fitting for that year, with the Equal Rights Amendment being passed by Congress and Shirley Chisolm running for president.
"I think it came along at the right time. I'd gotten involved in the Women's Movement, and there were a lot of songs on the radio about being weak and being dainty and all those sort of things," Reddy said when discussing the song decades after its debut. "All the women in my family, they were strong women. They worked. They lived through the Depression and a world war, and they were just strong women. I certainly didn't see myself as being dainty," she said.
Reddy's inspiring life story is one every woman could admire or relate to. Reddy came to the states as a single mother who hoped to become a star. She used her voice to speak up and out on subjects stemming from the women's rights movement, such as sexism and gender equality, something she regularly encountered throughout her career.
The story behind the iconic "I Am Woman" song was recently told in the biopic "I Am Woman," which gives a detailed account of the singer's journey through the music industry.
Director of the film and close friend of Reddy, Unjoo Moon, said in a statement to USA TODAY, "I will forever be grateful to Helen for teaching me so much about being an artist, a woman, and a mother. She paved the way for so many, and the lyrics that she wrote for 'I Am Woman' changed my life forever like they have done for so many other people and will continue to do for generations to come."
Aside from her incredible musical talents, Reddy had a long stint in the film and TV industry. She has starred in films such as Walt Disney's "Pete's Dragon" and "Sgt. Pepper's Lonely Hearts Club Band." Reddy was also the star of her TV show, "The Helen Reddy Show," and made appearances on shows like "The Jefferson's," "Fantasy Island," and "Family Guy."
After retiring from music and TV, Reddy pursued a degree in clinical hypnotherapy and neuro-linguistic programming. She later became a practicing clinical hypnotherapist.
On September 29th, 2020, it was announced by Reddy's children that the singer had passed away. She was 78 years old.
"Our hearts are broken, but we take comfort in the knowledge that her voice will live on forever," her children said in a statement.
Helen Redd's legacy and stance on woman empowerment is one that will continue to be celebrated through generations of women to come. The iconic words "I am woman, hear me roar," are more than just lyrics to a song. They are words of affirmation that attest to the power that lies within the hands and hearts of women.