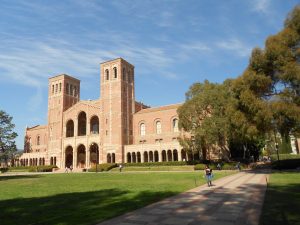 The University of California, Los Angeles has announced a $20 million gift from alumnus Matthew C. Harris ('84) and his wife, Jennifer, to establish an institute dedicated to understanding kindness.
The institute, which is housed in the division of social sciences, will support world-class research on kindness, create opportunities to translate that research into real-world practices, and serve as a global platform to educate and communicate its findings. Among its principal goals are to empower citizens and inspire leaders to build more humane societies.
"Universities should always be places where we teach students to reach across lines of difference and treat one another with empathy and respect — even when we deeply disagree," UCLA Chancellor Gene Block said. "The UCLA Bedari Kindness Institute will bring the best thinking to this vital issue and, I think, will allow us to have a real social impact on future generations."
Harris is co-founder of The Bedari Foundation, a private family foundation with a vision "that humanity can cultivate the deeper sense of consciousness and awareness required to change underlying attitudes, beliefs and responsibilities about ourselves, our communities and our planet," according to its website. The donation to UCLA was funded through the foundation.
"My end goal is to have a broad platform to promote empathy and help people think about kindness," Harris told The Los Angeles Times. "It is, in terms of the perpetuation of our species and the ability to live with each other and nature, critically important."
The institute will begin operating immediately. Already, a range of researchers at UCLA are studying the types of questions that the institute can fund. For example, UCLA anthropologists are examining how kindness spreads from person to person and group to group.
"In the midst of current world politics, violence and strife, the UCLA Bedari Kindness Institute seeks to be an antidote," said Darnell Hunt, dean of the UCLA division of social sciences. "Rooted in serious academic work, the institute will partner and share its research on kindness broadly in accessible formats. The Bedari Foundation's extraordinary gift is truly visionary and we are grateful for its support and leadership."
The gift is part of the Centennial Campaign for UCLA, which is scheduled to conclude in December.