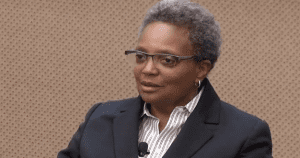 Chicago made history on Tuesday, April 2, 2019, when it elected Lori Lightfoot. The city is now the largest in the United States to elect an African American woman as mayor. Even if Lightfoot had lost, however, that would still be true. The woman Lightfoot faced in Tuesday's runoff, Toni Preckwinkle, is also African American.
The two women beat out more than a dozen other candidates before facing each other in a runoff. This made the election special for a second reason. It was the most crowded in Chicago's history. The two women left standing, however, would each be a historic choice.
Preckwinkle and Lightfoot are not far apart ideologically, but they had enough differences to draw voters to campaign events even in Chicago's cold and rainy spring. Of the two, Lightfoot was more of an unknown. The 56 year old is a lawyer and former federal prosecutor who was president of the Chicago Police Board. Preckwinkle, on the other hand, is the head of the Cook County Democratic Party and the president of the Cook County Board. The 72 year old is seen as one of Chicago's most progressive Democrats and is a seasoned politician who made her name decades ago.
The two candidates may have seemed similar to outsiders, but Lightfoot won Chicago in a landslide. She swept all 50 of the city's wards and took home 74 percent of the vote. Her work, however, is far from done. She now has to name a transition team, build out a Cabinet and hire top staffers in less than six weeks. Even after the transition is done, Lightfoot will have a lot on her plate when it comes to carrying out campaign promises which included reforming a city government notorious for its corruption. One can only hope that she manages to succeed and help Chicago leave its days as a political machine behind.