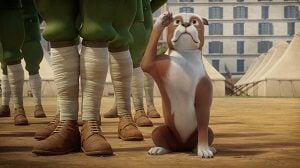 Stories of canine courage normally involve dogs who saved their owners from house fires or protected them from attack. People may also think of the dogs who sniff out bombs and drugs for police officers and soldiers alike. Most people, however, do not think about dogs fighting on the front lines beside their masters, much less in the blood soaked trenches of World War I. That, however, is exactly what the four-legged hero, Sgt. Stubby, did just over a century ago.
Sgt. Stubby was found on the streets by a doughboy who smuggled the dog into Europe when he was shipped out to fight in World War I. The boy's commanding officer was amused by the fact that Stubby could salute, so the dog was allowed to stay. Stubby, however, came to be essential at far more than simply raising moral. Stubby could detect gases and shells before humans and warn soldiers to take cover. He also successfully captured a German spy singled-pawed and was promoted to the rank of Sergeant.
Richard Lanni was working on a series for PBS about World War I when he came across the story of Sgt. Stubby. "I was totally inspired by this little dog's zero to hero journey," said Lanni. "I had never encountered anything like it before."
After digging into the tale of Stubby further, Lanni decided to take Sgt. Stubby's story to the silver screen. "The Stubby story was just begging to be made into a feature length movie," Lanni said. "It had all the ingredients of a real family tale; it was true, it had the potential to be truly cinematic,  it was full of heart and it gave me the opportunity, wearing my documentarian's hat, to take viewers back to a long forgotten period of American history."
Unusual for a war film, the story of Sgt. Stubby was produced using animation and aimed at children and families. "We wanted to make this an intergenerational family movie [and] animation was the only way to do it. WWI was the bloodiest and cruelest of wars, and we needed to soften it for younger audiences without dumbing it down too much for adults. Animation also gave us the opportunity to control the emotions and expressions of Stubby so that little kids could just focus on him."
In addition to telling a good story, the movie "Sgt. Stubby: An American Hero" exposed children to an important period in history that few schools linger on. In fact, many children and teens today probably could not even name the years during which World War I was fought. What little of the war is discussed in schools usually focuses on dates and leaves children too bored to remember even the broad strokes of the conflict. Lanni hoped to change that with "Sgt. Stubby."
"Why do entertainment and education need to be mutually exclusive?" Lanni asked. "I believe that telling stories in animation is a perfect way to engage children with history and major events in our world. Through the rich visual environment, we can tell real…stories while maintaining the attention of kids. … In the immediate sense, we want to open children's eyes and minds to a period in history that is often neglected in schools and popular media. In a broader sense, we want to make a point of showing that historical filmmaking is more than documentaries and inaccessible prestige dramas for adults; these events actually happened in our collective past, [so] let's get kids excited about exploring other eras through a visual language, animation, that they can understand and appreciate. …WWI shaped America and the world, and through the eyes of our hero [Sgt. Stubby], we were able to take kids back to a time they had never heard of."
Calling Sgt. Stubby a hero does not simply refer to his role in the film either. Sgt. Stubby was essential on the battlefield and is the only War Dog to have ever been nominated for rank and then promoted through combat. He was also the forerunner of the modern War Dog program. When he returned to the United States, he was treated as a celebrity, and when he died he was given a longer obituary in the New York Times than many human celebrities. His ability to inspire, however, did not end with his death.
Lanni noted that Stubby and his master, Corporal Robert Conroy, relied on each other in the war. "I am sure from my research that neither one would have come without the other," Lanni said. "They kept one another alive." That does not, however, mean that Sgt. Stubby's story only serves as motivation for those interested in pursuing a military career. "Stubby is a tremendous role model for young people," said Lanni. "He demonstrates that even a scrappy little street dog can become somebody. Also, it's a story of compassion and camaraderie."
Lanni's work with the story of Sgt. Stubby is not over either. "Sgt. Stubby" ends with the conclusion of World War I, but the street-dog-turned-Sergeant's story still has further lessons to impart to modern viewers. As such, Lanni is planning to make a sequel to "Sgt. Stubby." "This [first] film ends with the conclusion of World War I in 1918, but Sgt. Stubby lived until 1926 and had a long career as spokesdog and celebrity around the country! He led parades, raised awareness of veterans' issues, met three sitting presidents, and appeared on vaudeville stages," said Lanni. "His owner, Robert Conroy, also became a government agent during Prohibition, which opens up another avenue to explore. By following Stubby's continuing real-life adventures, we're able to present the first quarter of the 20th century and all its growth and upheavals through a 'dog's eye view' of history for all ages to enjoy!" The second movie will likely also touch on issues such as PTSD, then called shellshock, which continues to affect veterans today and has led to a suicide epidemic among servicemen and servicewomen.
A date the sequel to Sgt. Stubby has not yet been announced, but the DVD and Blu-ray of the first film was released on December 11, 2018, and is now available online. (https://funacademystudios.com/product/sgt-stubby-dvd/)