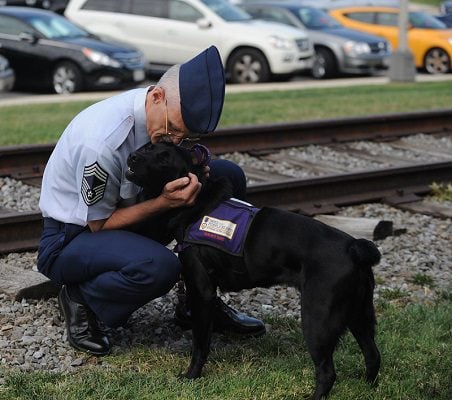 Dogs have long been described as man's best friend, but most people do not think of canine companions as life savers. For veterans, however, dogs can be exactly that.
Maddy Gibson, a 38 year old Navy veteran, divides the world into fear and peace, loneliness and comfort, and the demarcation has four legs and pointed ears. Lady, Gibson's Basenji mix, is a rescue dog that has found both a higher purpose and a forever home as Gibson's service dog. Lady and Gibson graduated from Pets and Vets, a program that seeks to connect veterans with rescue dogs that have passed the tests required to become service dogs. The veteran and soon-to-be service dog spend several months training together and learning how to work as a team.
Service dogs are not always thought of as lifesaving intervention, but the love and careful attention of a service dog can be enough to pull a veteran back from the edge of suicide and out of depression. "[Lady has] changed my life so much," Gibson said. "Before, I didn't get out of bed much. I didn't go out much. To me, the world was terrible and humans were awful… [Now, Lady acts] kind of like a social lubricant. I can talk to human beings again, and that's not a bad thing."
Gibson is not the only graduate of Pets and Vets to get a new lease on life. Cliff Waugaman, a 34 year old veteran, continued to struggle with PTSD even with medication and therapy until he met Django, his boxer-bulldog mix. "He calms me," Waugaman said. "That's the biggest thing."
Samuel Phillips had a more difficult time than many other veterans who are matched with service dogs. Phillips had been bitten in the face by a Rottweiler when he was a child and had to conquer a fear of dogs in addition to dealing with already crippling psychological issues. Despite this, Mackenzie, his bull terrier mix, has come to represent safety. "She's the reason why I went back [outside,] why I'm able to go to those places [I went before my deployment.] They bring back memories, good memories, for a change."
Pets and Vets is far from the only program that trains rescue dogs to become service animals, and increasing numbers of organizations and medical professionals are encouraging veterans to get a service dog. Hopefully, this trend will continue and give both veterans and rescue dogs a new lease on life.