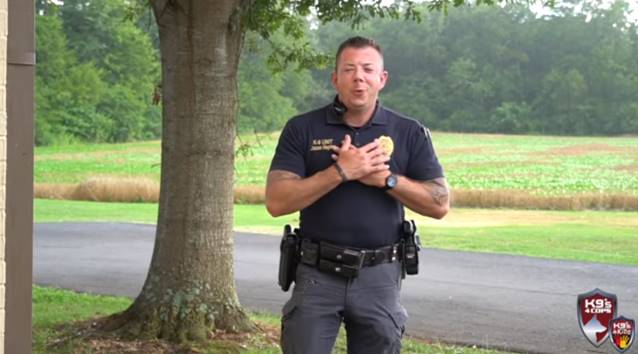 Hollywood, Alabama Police Chief Jason Hepler lip-synced MercyMe's 'I Can Only Imagine' as part of the K9s4Cops' Lip Sync Battle initiative. In a video that has now been shared more than 443k times and gained 14 million views on the K9s4Cops facebook page, Hepler and his K9 partner sing their own rendition of the popular Christian song.
Hepler chose this song for a special reason. He says it helped along his journey as an officer.
"I Can Only Imagine is a song that has been there for me in some of my darkest hours, when I was at the lowest points whether caused by bad decision or because of things I was dealing with seeing from work, this song would be my go to when I needed some uplifting," Hepler said in a news relates.
He also shared that his furry partner has been a great asset to the department since his arrival.
"K9 Fox is an amazing partner, pretty much his entire life has been of service," Hepler said. "He has been an instrumental part of our organization, hundreds of pounds of drugs are off the streets along with thousands of dollars in drug money."
Hepler is a proud man of faith but shared that he was nervous to share, not because he is ashamed of his faith, but because he wanted to give the song "justice." He finally worked up the courage to share the record after a youth member at his church, Mercy Temple Church of God in Pisgah said they loved it.
The privately funded organization reached out to the Hollywood Police Department as part of their Lip Sync Battle Initiative. Other lip sync videos can be found on the K9s4Cops facebook page. Other lip sync videos can be found on their page.
The video was popular enough for the songwriter's mother, Dell Millard Duncan to reach out to Hepler with her input.
Duncan wrote, "You did great! That was my son Bart Millard that wrote the song and sings it. God has truly blessed him and many others through this song he wrote in 1994. So proud of him and where God has taken him. God bless and thank you for serving that we might have freedom every day!"
Many others had positive reactions to the video:
Chelsea Allise Roberts wrote on the K9s4Cops facebook page, "This is beyond my favorite lip sing. Y'all have done such a wonderful job but I just want to say thank you for showing Glory To The King. We get lost a lot of times in our day to day activities. You could have chosen any song but you chose this one. Thank you for absolutely making my night and many others…"
Kathy Nicklaus wrote, "Wow…thank you for showing Christ through your badge! God bless you."
Susanne Kniskern wrote, "Yes, yes, yes! I love this!!! A strong man praising God unashamed!!! Exactly what this world needs more of…"
Watch the lip sync battle below and share your reactions!