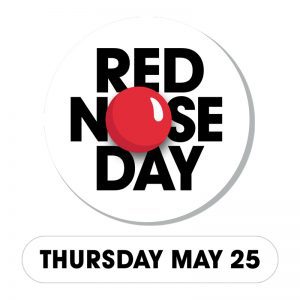 Celebrities from all over Hollywood are joining together to make a difference in the lives of children in need by participating in Red Nose Day 2017.
Red Nose Day is an annual fundraising event that raises money for charities driven to end child poverty – one "nose" at a time. Christian organizations that receive funding and benefit from Red Nose Day include Covenant House and charity: water. Other charities that will benefit include Feeding America, Save The Children and Boys and Girls Club of America. The charities spread throughout the U.S. and around the world to make a different for all children.
To help raise awareness and aid in fundraising efforts, NBC has dedicated a special night of television programming on Thursday, May 25th. Organized by Comic Relief, the hour long special will also feature a sequel to the 2003 film Love Actually called Red Nose Day Actually that reunites most of the original cast. It will be hosted by Chris Hardwick live from Rockefeller Plaza in New York City and premiere at 10 p.m.
Throughout the night there will be other special Red Nose Day-themed programming. The full line-up includes Celebrity Ninja Warrior for Red Nose Day at 8:00 p.m. followed by a 9:00 p.m. episode of "Running Wild with Bear Grylls" that has actress Julia Roberts joining adventurer Bear Grylls in Kenya.
Throughout the night, viewers will be entertained, learn about the programs supported by Red Nose Day that are helping to change the lives of children, and have the opportunity to support the charity through calls to donate. This is the first time the night of programming for Red Nose Day has included special editions of existing NBC shows.
Further celebrity contributors include Ben Affleck, Patrick Dempsey, and Orlando Bloom, plus the cast of Love Actually including Keira Knightly, Laura Linney, Liam Neeson, and more. The lineup of talent worked with the Bill & Melinda Gates Foundation – a huge sponsor and promoter of the cause – to create a video announcing that the foundation will match up to $1m in donations made to Red Nose Day in the US using Facebook's charitable giving tools – enabling people to double the impact of their contribution.
The video references the famed Love Actually scene where actor Andrew Lincoln silently professes his love to Keira Knightley's character using hand-drawn signs. In this clip, Liam Neeson, Gates and others pull the same stunt, while telling Americans that every dollar up to $1 million they raise on Facebook until June 15 will be matched by the Bill & Melinda Gates Foundation. Frances' "No Matter" soundtracks the video.
While some celebrities took the comedic stance, others like musician Ed Sheeran help to remind us exactly of the children we are helping. A special video featuring Sheeran and a little girl named Peachesis a testament to the inner strength and hope that lies within all children – even those in challenging circumstances.  Peaches lost her father during the Ebola crisis in Liberia, and has been unable to go to school since his death.  She sings to honor her father's memory, and shares with Ed her desire to return to school, to become a musician, and to use her voice to sing in churches.
In addition, actor and comedian, Kumail Nanjiani, also known as Silicon Valley's very scared and hilarious Dinesh Chugtai, will be singing karaoke live on Facebook today (May 16) at 11:30am PT to help raise funds.
The Red Nose Day fundraising effort is a relative newcomer in the U.S. but started in the U.K. more than 30 years ago. The American effort has raised $60 million over the past two years for children's causes worldwide.
The campaign's iconic Red Noses are now available at Walgreens and Duane Reade stores nationwide, with all profits supporting the cause. Fans can share how they're celebrating and supporting this year on social media at @RedNoseDayUSA and by using the hashtags #RedNoseDay and #NosesOn. Fore more information, visit NBC's website.