Our "People Who Do Good" series has been a blast and I've enjoyed highlighting the stories and lives of everyday heroes. This one comes to us from writer Rebecca Brittingham who traveled to Florida to find a cake-maker with a heart for the less fortunate.
When most people hear the word art, they usually think about watercolors, acrylic, mosaic and pottery. They think about artists who create elaborate images that share stories of hope and life. However, for one individual, art extends beyond the paintbrush and paint. In the heart of Fort Lauderdale, FL., Ilynn Negron creates artistic masterpieces using cake, frosting and fondant, which is a sugar crust that covers the cake before the frosting. In the same way that an artist pours his heart into his painting, Negron pours her heart into creating monumental cakes.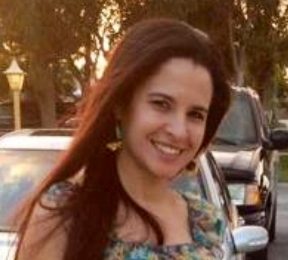 "When I first started, I had never baked this cake before," Negron shared as she slathered butter cream frosting on her freshly made vanilla rum cake, a special family recipe that she had spent months perfecting.
"I never thought that I would ever bake cakes." Negron carefully smoothed the frosted cake with the cake smoother and exclaimed, "It's perfect." She placed the cake in the fridge and said, "God gave me a vision and I have to be obedient." She walked to the corner of the kitchen and gathered the blocks of colorful candied Lego pieces that she had constructed days before.
Ilynn Negron, born in Puerto Rico, immigrated to Florida when she was 15. As a Puerto Rican, her family observed many traditions. However, the one that stands out above all others is the Vanilla Rum Cake served at every birthday. "It was so moist and delicious," Negron said as a mile-long smile stretched across her face. This family recipe left such an impact on Negron that when it was time for her to decide on a cake flavor, she had no doubt that the Vanilla Rum Cake would be the winner.
Negron firmly rolled out a piece of fondant, as if it were a piecrust, on the table. The red fondant, made from pure sugar, water and gum paste matched perfectly with the Lego piece that Negron had carefully constructed earlier that week. She continued: "It started out with a bundt cake."
As a single mom, Negron would often look at her daughter and see how she enjoyed birthday cakes, barrettes and beautiful things. Negron shared that she would feel heartbroken at the thought that so many children, today, don't have the luxury of enjoying something as simple as even a birthday cake. "Maybe," she thought, "I could bake cakes for homeless children." This is when she feels that the Lord gave her a vision to bake cakes to raise money in the fight to end human trafficking. Although it sounded like a great idea, Negron never imagined that it could really happen.
It all started last August in a small kitchen. Negron had no supplies, training or experience. She had never made a Vanilla Rum Cake before. The only thing that kept her going was a vision to help raise awareness about the injustice in the world. "God put in my heart a desire to help in the fight against human trafficking," she said.
Negron continued rolling out the fondant. She shifted gears and said, "You have to make sure that the size of the fondant is the same as the cake." Negron pulled out a measuring tape to make sure the dimensions of the cake and fondant matched.
As she wrapped a second layer of fondant over the Lego piece, comprised of a rice crispy treat, she looked up and said, "I didn't think that I could do it. I didn't think that I could make cakes." Negron's first cake was a simple mini bundt cake covered in a light glaze.
For the first several months, while Negron experimented with the recipe, she would donate her bundt cakes to various local ministries. She never imagined that it would extend beyond her bundt cakes.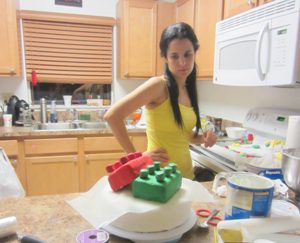 However, in January 2012, a friend asked Negron to bake her wedding cake using fondant. Negron explained, "I freaked out. I couldn't make a wedding cake." Although fear of failure and incompetency gripped her heart, Negron agreed to the challenge. The next several months, inspired by her daughter, Negron taught herself the art of cake decorating using youtube.
She pressed the edges of the fondant against the Lego piece and continued: 'This isn't something that is natural for me, but God gave me a vision and I have to be obedient."
With a small pause, Negron reached for the cake in the refrigerator and started decorating. She played with the Lego pieces for a few minutes. "I pray before I bake every cake because I don't know how to put the cake together."
Within a few minutes, Negron had a design for the cake. She carefully placed the Lego pieces on the side of the cakes and set the Lego blocks on top and wrote "Happy Birthday, Joshy."
Negron would say that God is the artist, and she is just the vessel who holds the paintbrush in which God's uses to paint his story. Negron brought together, a family tradition of Vanilla Rum Cake and a vision for children, giving birth to her ministry One Heart Cakes.
A year ago, Negron never have imagined that she would tell a story through baking cakes. Today, Negron bakes cakes for birthdays, parties, special occasions, and weddings. Every cake that Negron sells, she donates a portion of her profit in a fund to fight against human trafficking. Something that seemed impossible, Negron feels that God made a way. For more information about ordering a cake, check out Ilynn's website at www.oneheartcakes.com.