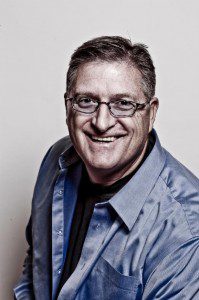 Today's guest blogger is Sam Bracken, co-author of My Orange Duffel Bag: A Journey to Radical Change (Crown Archetype; June 2012) with Echo Garrett, spokesperson for the Orange Duffel Bag Foundation, and general manager of new media for Franklin Covey.
When I was 13-years old, I collapsed during track practice after a drug binge with my older stepbrother. I grew up in a family that could be described as a whacked out version of The Brady Bunch on an episode of Cops in Las Vegas. Mobsters and motorcycle gang members were my role models. I'd started drinking and doing drugs at age 9. That day on the track I decided I didn't want to be like the rest of my family. But I had no idea how to change.
An eighth grade teacher discovered I just needed glasses and got me out of special education classes. My stepfather hated religion, but I'd sometimes risk his wrath and the inevitable beatings that would occur if he discovered I'd attended a church service. Once in the locker room after football practice, my best friend Brent wept when he saw the bruises on my back. He was familiar with my home environment and the crazy things that happened on a daily basis. I was searching, trying to figure out what a normal family looked like – especially a dad.
Then my stepdad was accused of molesting my younger sister. She was taken away by the state, and my folks split up. My mom suffered a mental breakdown and abandoned me when I was 15. Her parting shot was to tell me that the man I'd thought was my biological father wasn't and that I was the product of a date rape. "I wish you'd never been born," she screamed at me.
I ran in the desert for what seemed like hours until I collapsed in the dirt. I cried and tried to pray. A voice popped in my head: Call Brent. His family took me in. I noticed that they had a strange habit of gathering together at night. They called it dinner. They asked each other about the day's events and prayed before the meal.
Over the next few years of high school, I couch-surfed at different friends' houses. I kept my homelessness secret from my high school, because I was afraid I wouldn't be allowed to play football or run track. I worked to support myself, studied and made all my practices. When my stepdad got cancer, I moved in with him and gave him most of my tips from my busboy job on the Strip. He was the only dad I'd ever known.
My senior year was momentous. My promised football scholarship at my dream school was given to someone else. My stepdad died. I got baptized after learning more and more about my heavenly Father. I graduated #11 out of 700 kids. And then a miracle happened: I earned a football scholarship to the Georgia Institute of Technology. When I left Las Vegas, everything I owned fit into an orange duffel bag I'd gotten at a football camp.
I arrived in Atlanta in February with no coat – just a t-shirt and pair of jeans. That first Sunday at church, I met Joan and Don Conkey, who invited me to brunch. "You've got a home with us, Sam," Don said. I was amazed they loved me for no good reason.
My future looked bright. After my freshman year, Coach Bill Curry told me he thought I'd wind up achieving my dream of playing professional football. Then I hurt my shoulders in spring practice. I was told I'd never play football again. When I awakened from surgery, Joan and Coach Curry were at my bedside. "Son, your scholarship is safe," he said. "I don't care if you play football again. I just care about you."
Alone in my hospital room later that night, I wept. I was starting to understand a father's unconditional love. I went on to re-earn my starting position on the Georgia Tech team, and my senior year was a contributor to one of Tech's teams with the best record in the school's history.
Today, I'm married and a father to three sons and a daughter. Our children call the Conkeys their grandparents and Coach Curry has a place of honor in our family. The way I chose to give back to all the people who stepped up to serve as surrogate fathers and mothers to me was to tell my story in My Orange Duffel Bag: A Journey to Radical Change. I was never adopted, but I learned to feel a father's love through my mentors and my faith. Two years ago, I co-founded the Orange Duffel Bag Foundation, a 501c3 nonprofit, that does life plan coaching based on the transformational change process in the second half of the book. We work with at-risk kids ages 12-24, focusing on kids in foster care and those aging out of the system (age 18 in most states).
I know what a difference one person can make in the life of a teenager. I was that kid. Be that one to help just one.
(photo credit: Kevin Garrett)



My Orange Duffel Bag: A Journey to Radical Change