Today's guest blogger is mother, writer and filmmaker Kristen Wolf. Her latest book is called The Way, an O Magazine fall reading list pick (yep, that's Oprah). Enjoy!
If you asked ten people how they connect with their spirit, you would get ten different answers. Some attend yoga class, meditate, or go to a religious center. Some walk through nature, read a favorite book, or play with their pets or children.
All of these are beneficial practices, yet they all share a drawback: they require particular places or conditions.
So what happens when you desperately need inspiration and you're on lunch break without your book? Or staying in a city that lacks walking trails? Or the day's yoga classes are full?
What then?
One practice that can take place anytime, anywhere, is the act of connecting deeply with something eternal. When we step away from the world of cell phones and cars and funny videos to become aware, even for a moment, of the Great Reality that sustains us and of which we are a part, we feel both grounded and uplifted.
So what does this look like? Let's take a look at the 5 steps using an example: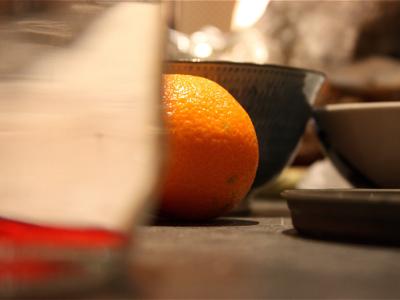 Step 1: Choose an object.
The thing itself doesn't have to be grand or exotic. What matters is the depth of your attention. Look around you, is there a houseplant? A fruit or vegetable? Can you hear birdsong? If you're in a truly barren world, look down at your own hands.
For our example, I will choose the orange on my desk.
Step 2: Breathe slowly and deeply.
Even if the world around you is chaotic, take a moment to focus on what you have chosen. Set your intention to stay present to your choice.
Step 3: Turn a reverent and imaginative eye upon your object.
Extend yourself out to meet what you have chosen. Allow it, also, to come forward and meet you. Observe deeply. As if you were seeing the object for the first time. Be relentless. Notice all you can. Let your curiosity and your child-like wonder run free.
Some things I notice about the orange:
One half of the orange is darker
Its skin is dimpled by pockets and creases
It has a faint citrusy scent
The stump of its stem looks brittle and torn
Step 4: Let your physical observations take root and grow.
Follow your reflections. Try to "become" the object you've chosen. Endeavor to see and feel life through its perspective. Questions you might ask: How did its life begin? How does it move? How is it vulnerable or strong? From where does it draw its energy?
Here is how my observations about the orange expand:
One half of the orange is darker — I wonder if it grew in a cluster with other fruits, half of it exposed to the light, the other half shaded by its neighbors. ?
Its skin is dimpled by pockets and creases — I wonder if the dimples are to help the fruit collect morning dew? Or ward off insects? Or help preserve the juicy fruit inside?
It has a faint citrusy scent — I first realize if I hadn't stopped moving, I would never have caught the scent, and am grateful. I then wonder who is the scent's intended target? Birds or other creatures needed for pollination? I then wonder what magical chemistry the fruit performs to ordinary water and sap to distill such a dizzying fragrance?
The stump of its stem looks brittle and torn — I imagine the moment when either machine or human hand tore the fruit from its lifeline. I travel back to when the stem was fresh and green and alive. I try to imagine the flow of sap that would have passed through it. Bringing the innumerable materials and energy necessary to craft juice and skin and seeds.
Step 5: See if something you noticed or learned could be applied to your own life.
This final step, while being powerful, is not actually required. However, often one discovers parallels between what we observe and a struggle or question we are facing. In my example, I am compelled by the ability of a channel as small as the orange's stem to transport a mind-boggling amount of raw materials. From now on, whenever I'm feeling drained by what's required of me, I will draw inspiration from this phenomenon.
The entire process above took less than five minutes.
The sheer flexibility of this practice — the fact that it can be done anywhere, at any time, without a schedule, ritual, or specific tools — is part of what makes it so powerful. The fact that it taps into an eternal creative source, from which we all come, is what makes it universal and accessible to everyone.
No matter what our practices or beliefs, in today's fast-paced world, we all have moments when our usual sources of guidance and inspiration are unavailable. By bringing the practice of reverent attention into your life, you'll always have a lifeline — and access to an endless power source!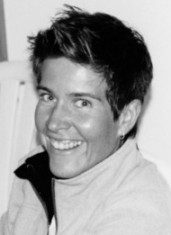 Kristen Wolf is a mother, writer, and filmmaker living in the Rocky Mountains. She is a Phi Beta Kappa graduate of Georgetown University and holds an M.A. in creative writing from Hollins University. The Way, her first novel, was featured on Oprah's Fall Reading List as "A title to pick up now."
For more information please visit www.kristenwolf.com, and follow the author on Facebook and Twitter.