As I write this, we are all returning back to normal after Hurricane Irene. Here in Norfolk, the flood waters have receded, there are a few down trees and lots of people are still without power. However, it could have been a lot worse. I think we're all pretty lucky.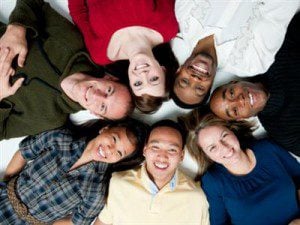 Storms like this and other emergencies really make you think about the ones you love and the ones that love you. Prior to this storm, I'd been in a funk, thinking that I was all alone. It's interestingly paradoxical how universal the feeling of isolation is. We've all been there. It's like we're all feeling lonely together, yet how can that be?
During the storm, I left my low-lying area and went to stay with my sister-in-law further north. I had a ball playing with my toddler niece, who seemed perfectly unaffected by the storm. I checked in and was called by my brothers and parents. My best friends sent me dozens of messages until they knew I was all right. And even when I came home to see that I was without power, friends gladly offered up their guestroom.
Today, I'm at my desk feeling grateful and somewhat silly for all my fuss the last few weeks about feeling alone. I'm encircled by family… some I'm related to and some that I'm not. But it's all family, because these are the people I can lean on when times get tough. These are the ones I call when the storm is coming.
Take a moment today to cherish the relationships you have in your life that support you. The imperfect connections that grow when you're at your weakest are the ones you can call your family. And because of them, know that, no matter how you feel, you're never alone.