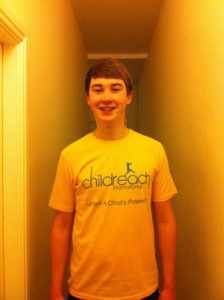 Meet Rob Gibbs. He's a 20-year-old British University student who's about to climb the fourth largest mountain in the world. And he's doing it for Childreach International. I recently reached out to Gibbs about his upcoming feat and what lead him to summit Mt. Kilimanjaro for the sake of children half a world away.
With so many things to focus on, especially in your university years, what inspired you to raise money for Childreach International?
I just saw it as a great opportunity for me to do something life changing whilst being able to change the lives of many others at the same time. I love the fact that I am able to go out and see the difference that the money I raise will be making and get to connect with the children out there too. I researched the charity before I decided I was going to take part in the expedition, as obviously it's important to find out what's going to happen to the money raised. They seemed to be a great charity who really make a difference in the right ways. For example, last year they increased 11,781 children's access to education and 23,330 children's access to healthcare. Education and health are two of the most important things in any individual's life, and I really wanted to help them help even more children to gain access to these.
Of all the adventures to choose from, why climb Mt. Kilimanjaro?
It all started back in October 2010 when someone from the charity came into my university to talk about Childreach International and the Kili climb. I thought that a chance like this is probably never going to come around again, so I really wanted to do it. I am doing the climb with a few friends as well as about 40 other people from my university, which makes it less daunting and really enhances the experience. If I had to do it on my own, I still would have done it though. I've never been that much of an adventurous person before but this adventure really excites me.
This sounds like an incredible opportunity, not only for the kids you're helping, but for you as well. What do you hope to learn from this experience?
I'm hoping to see life from a completely different perspective. I will get a great sense of achievement if I successfully raise nearly £2,500 for charity and manage to make it to the top of Kilimanjaro. They will probably be the two biggest things I have achieved in my life! Meeting the children and finding out about their lives will be a great experience too. It will definitely be an experience I will never forget and I know I will learn a lot from.
What advice do you have for other people who want to make a difference but don't know where to start?
Well, firstly I think it's important to find a charity which shares the same aims and goals as you. There are many great charities out there with many great causes. Find a charity that shares a passion for the same cause as you and go from there.
Learn more about Rob's climb and keep up with his progress at: www.robskiliclimb.co.uk